Sour cream coffee cake
I baked my second cake ever today, a sour cream coffee cake from I Knew You Were Coming so I Baked a Cake.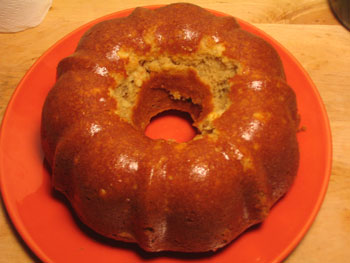 This cake involved no sifting and no mixer (a happy coincidence, since I have no mixer and no sifter!). Everything went according to plan except the time in the book seems to be off—I pulled it out after just over 35 minutes, but it was supposed to bake for 45-55 minutes. Also, as you can see, we had some breakage in the middle of the cake, but I don't really care about that too much.
I bought my bundt pan today from Sur la table for about $10. In case anyone is interested, all of their Christmas merchandise, including pots and pans, is 75% off. I came very close to buying a Christmas tree bundt pan, but I thought better of it.
Speaking of Sur la table, I just looked at their website and they are selling the silicone Orka oven mitt in green, regularly $20, for $6.99!