Shake Shack nightmare
My first visit to the Shake Shack began well enough; there was no line at all at 11:45 a.m.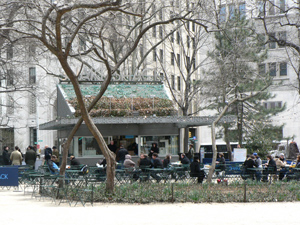 The menu was appealing and easy to read. It was too cold to enjoy a $5 milkshake, and I was advised to avoid the fries, so I kept it simple and ordered a $4 cheeseburger. I stood near the condiment station holding my little beeper, and then scary things began happening. First, there was this poor man trying and failing to enjoy his fancy hamburger in the Shake Shack seating area.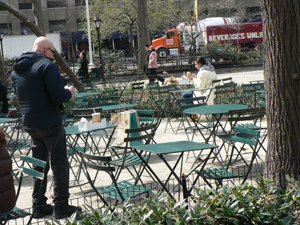 Why is he standing up, you wonder. Because he was being attacked by squirrels, pigeons, and sparrows. They were all over this guy. He must have dropped one fry, or sat at a dirty table, or, horror of horrors, fed them something. His meal was ruined, and I started getting nervous. I glanced at the trashcan to my left. Then at the trashcan to my right.

The little devil on the right must have seen my camera and thought it was a tasty snack, and so he began his hunt. I'm telling you, this evil, filthy squirrel came at me, looking me dead in the eye. He was not deterred by my kicking foot. I felt cornered, right there in the middle of Madison Square Park. This is what it looks like through the camera lens when you're being attacked by a New York City squirrel.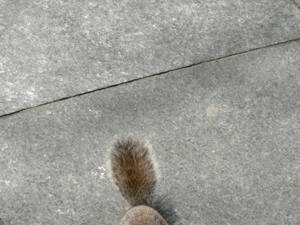 If you know me, it won't surprise you to know that I screamed and ran, much to the shock of passersby. My terror of squirrels came to life this morning, and I don't think I'll recover. They're worse than rats, who at least pretend to fear humans. Squirrels will jump right on you and take a bite out of you, your food, and your babies. Beware.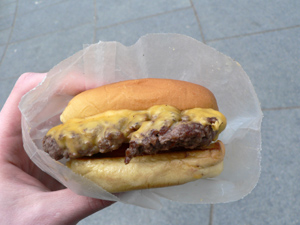 Oh, and the burger, which I ate while hightailing it out of the park, on my way to the relative safety of Union Square, was a perfectly fine $4 burger. Moist, soft, and like something you'd grill in the backyard. It's overrated, but at least it's half the price of your standard New York sandwich. I would gladly eat another one, but I'm avoiding Madison Square as I do Washington Square from now on, for my own safety!