Sahadi's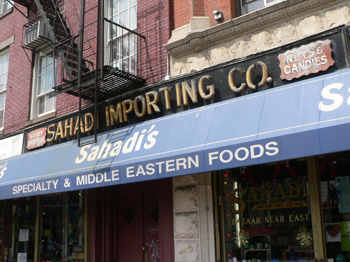 Sahadi's on Atlantic Avenue is enough to make me want to move to Brooklyn. I've wanted to go there since Emily B. first mentioned it to me last year, but it's closed on Sundays, which is the only day I'm ever around Brooklyn Heights or Cobble Hill (for open houses, my favorite Sunday pasttime). When I took a Uruguayan visitor to the nabe last weekend for sightseeing, I thought Sahadi's might be an option for lunch.

And it was. After you get through the ridiculous room of bulk spices, nuts, and coffee that makes you feel like you're in Morocco, you reach the unbelievable deli, where everything is oily and beautiful and cheap. As we waited in the seemingly interminable line, little women kept coming out of the back bearing steaming trays of gorgeous food. We feasted on several of these phyllo-wrapped tidbits (that's mushroom and eggplant on the left, and spanakopita on the right; we also had a wonderful tomato and feta version, as well as one with potato and herbs). Each item cost slightly more than a dollar, and we were stuffed and happy after sitting on a Brooklyn Heights stoop and eating every shred of dough and filling.
Sahadi's had overflowing bins of coffee beans at $5 a pound, as well as nuts, meals, candies, and flours, all at good prices. It's worth the detour from Manhattan, and possibly worth adding that part of Atlantic Avenue to my apartment search.