Rustic onion tart
Let me start by saying that, while you experienced crust-makers are welcome to laugh at me in private over the sight of the crazy-looking tart down below, I am thrilled with my own success. I've tried crusts in the past, which I'm not linking to because they are so embarassing. Now that I finally have a food processor, crust is a thousand times easier, just as Mom promised.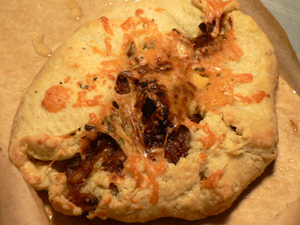 I couldn't believe how fast the cold butter was incorporated into the flour. It was less than ten seconds from chunky to cornmeal. I refrigerated it overnight (I got inspired to make the crust at one a.m.), and this morning I rolled it out and made the rustic onion tart from Simply Recipes. The rolling was easy, and it would look a lot better if I hadn't had the bright idea to roll it on a silicone mat. I thought that's what silicone was good for, but my dough stuck to it like glue, and I had to do some scraping with clenched teeth and sweat on my brow, nervous that my beautiful crust would be ruined.
Despite looking a bit disorganized, this tart was delicious. I didn't have red onions, so I used yellow, and I didn't have gruyère, so I used a sharp English cheddar. I also added a bit of diced pancetta to the onions just for fun. None of these variations seemed to hurt the preparation, and I'll definitely make this again. Wouldn't it be cute to make a few small ones for dinner guests?
I was glad to have such comforting food in my belly an hour later, when I was almost run down in a crosswalk by an old bully wearing a fur coat. If you know me, it won't surprise you to know that I gave his car a tap with my foot as it zoomed past, prompting him to pull over, and that the situation escalated into a screaming argument on 7th Avenue. The crazy coot even gave me the Isaiah Washington treatment! Perhaps I'm guilty of pedestrian interference, but I will still warn our New York readers to beware of a Mr. Silverstein who claims to live on 15th Street and has the license tag HNY 660 on his blue Audi.