Rudolph's of Gainesville
It's been ages since I last exercised my Eat guest-blogging privileges. Posting here requires either cooking something attractively delicious or exposing malfeasance in grocery store pricing. As the house dish wench I don't have much to contribute, except that anything with melted cheese is a real bitch to clean.
Occasionally we escape my miserly grip upon our finances and dine out in New York, but we're often disappointed with the food, service, or both. New York may be home to the US's greatest concentration of restaurants [citation needed], but it's also home to herds of desperate eaters who will accept just about any attitude from the wait staff, or temperature from the food, without complaint.
New York wins by default in the not-fast-food but less than $10 mains category, mostly extinct in the rest of the country. Above that is a choppy sea of restaurants; some of them do good work, but don't take (or won't take from you) reservations. They become popular, and soon begin treating their customers like dirt. The scene can be fun, but it is not easy and it is not reliable. Only when mains are above $50 can you find both food and staff that are consistently of good quality.
Being so over the New York restaurants, I've made a point of eating out at my hometown's best restaurant at every possible occasion. Rudolph's (warning: site contains irregular capitalization) is run out of a lovely old house on a street lined with lovely old houses that are now mostly haunted by law firms. Though locals consider the restaurant pricey, at around $20 for mains it's less expensive than the depraved chain steakhouses they do frequent. On the other hand, you can wear sweatpants to the LongHorn [sic].
I went to Rudolph's with particular curiosity last year as it is lately owned by a chef I toiled beneath at my country club job in high school. Not directly beneath, as I was a waiter, but I managed to provoke his wrath at every point my job intersected with the kitchen. Most notably, in pouring the horrendous "salad dressings" from their five gallon buckets, I once coated the storeroom floor with oily goo. He yelled, I looked up at him with an indignant eye, he snatched said eye out of my head, etc.
But good chefs are all bastards in the kitchen, and this one was good as far as I could tell. My first dinner at Rudolph's did not disappoint, and I was eager to return with Leland to get his opinion. So it was that we went out for an after-Christmas dinner with my parents.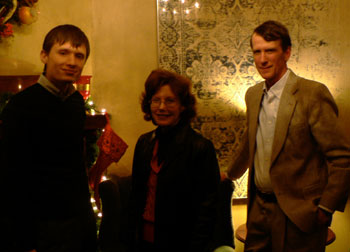 Leland, my mother and father, all looking appropriately stately.
The service was refreshingly free of attitude, if overly familiar. ("Hi, my name is Wilma, I'll be your….") I realize that I have issues with formality, but Country and Le Bernardin prove that it is possible to make diners feel respected, comfortable, and special all at once. The key is silence. Also, "Wilma" was a bit slow in getting our first orders.
The food was excellent, regardless. We devoured our baked escargot and portobello "tower" apps. For the main course I had a pecan-crusted trout that was at least as good as any fish I've eaten. The sauce was a bit syrupy, but not cloying. The nuts, fish, sauce, and accompanying whipped potatoes blended perfectly. Leland had an oversize portion of strip steak that he enjoyed and finished, to my surprise. My parents had two different shrimp dishes that they liked.
If this restaurant were transported unchanged to the West Village, we would eat out more often. It's not a fair comparison; much of the business of running a restaurant is more expensive in the city (liquor license bribes?), while other parts are cheaper (undocumented Mexican immigrants work for even less money?). But for all the hoopla over New York restaurants, I find it remarkable that I can easily get a better meal for the same money elsewhere.
Rudolph's, 700 Green Street, Gainesville, Georgia, 770-534-2226