Roast chicken with croutons
Last night I made an herbed roast chicken that I served atop large croutons of crusty sourdough bread (to collect the juices).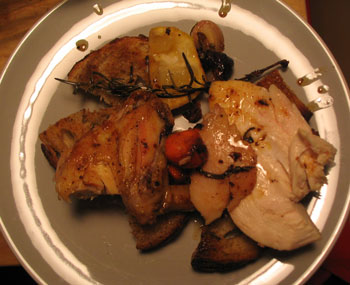 The flavor was good, but it may have been a tad on the salty side because of the brine. I think I was a little heavy-handed with the Morton's Coarse Kosher.
I'm still having trouble carving birds, and trussing them. Mom: do you tie your chickens? Jacques is always saying that you have to, but I find it exceedingly difficult. I need a tutorial. It's like learning how to tie my shoes all over again.
Anyway, a whole chicken only costs $3 at Western Beef, so for now I can just keep practicing and see what works. It's not like I'm practicing on a crown roast of pork.