Rhubarb pie
I made my very first double-crust pie today. Even though it was for Nathan's 30th (!) birthday, I made my favorite pie: rhubarb.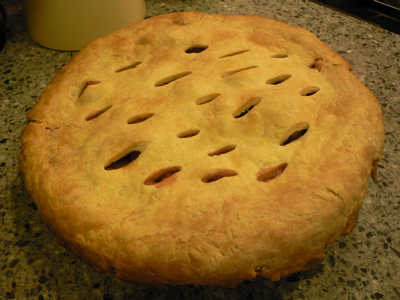 I used an old Martha Stewart recipe called tartan rhubarb pie, which used a good bit of orange and cardamom. It's called "tartan" because of the lattice top that it's supposed to have, and which I chickened out of. I looked at the crust and thought, this is going pretty well so far, let's not screw it up.
I had never had a straight-rhubarb pie before, without strawberries in it. And though this was totally delicious, I will probably use strawberries next time to tamp down the tartness a bit. Vanilla ice cream helped. Anyway, Nathan was extremely pleased with the entire package.