Rancho Gordo beans
I've been wanting to eat more beans at home ever since I took an Italian cooking class last year. Unfortunately the one time I tried preparing dried beans was a complete disaster and it scared me out of giving it another go. I bought what I thought were safe beans: cannellini from Balducci's. Even after soaking them for a full 24 hours, though, they didn't soften at all, and after three hours of simmering, they were still as hard as niçoise olives. And I had read the Alice Waters chapter on dried beans, so I basically knew what I was doing. I didn't add salt or acid or any of the other bean no-nos. I managed to force them through the food mill, and they were somewhat edible as a purée, but I was determined not to relive the experience.
After the easy joy of preparing heirloom cannellini beans from Rancho Gordo the other night, I realized that the beans themselves must make all the difference.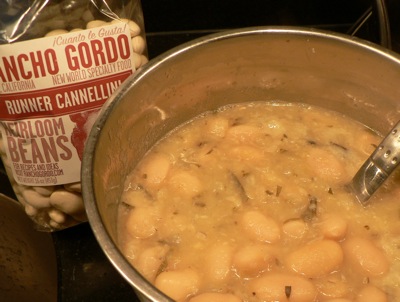 Rancho Gordo is a small outfit run out of California by a guy who's obsessed with high-quality New World ingredients. He sells a great variety of gorgeous beans in his online store, and I encourage you to place an order if you're at all interested in cooking beans (tip: it's a flat shipping rate, so go in with your friends on several pounds).
These cannellini were already softening after being soaked for ten hours. I followed Rancho Gordo's basic cooking instructions: I sautéed a sliced onion in olive oil with garlic and rosemary, and then added the beans and their water. After about two hours they were completely soft and bursting out of their skins. With a few tablespoons of grated parmesan, it was a sweet and delicious little meal (with a nice green salad). If I get my way, we'll be eating more beans and less meat this winter.