Problems at il pizzaiolo
The dinner dilemma continues; last night we had to wedge a meal in between my husband performing an afternoon concert at a Borders in Monroeville and having to be at a 6:30 PM meeting of Retrouvaille in the South Hills.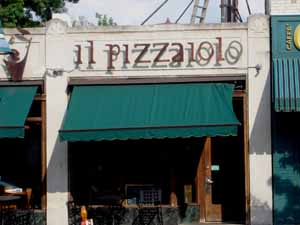 I remembered that we had enjoyed a couple of meals at Il Pizzaiolo, in Mt. Lebanon, not too far from the location of our meeting, and reasoned that if we got there at 5:30 we would be among the earliest customers and likely to be served quickly, enabling us to get to our next destination on time. And at first it looked like my plan was working; we walked into an empty restaurant, were seated immediately, and had our orders taken within minutes.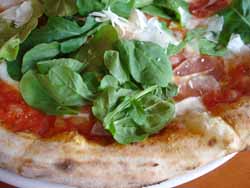 Then it all started to go wrong. The waiter brought our salads and some bread and olive oil (they serve the bread with good olive oil, and don't add vinegar to it which is a good thing, in my opinion; I don't like dipping my bread in vinegar). I had ordered a pasta dish and my husband one of their signature pizzas. Il Pizzaiolo was one of Pittsburgh's first restaurants to get a wood-fired pizza oven, and they turn out good, thin-crust, crispy pizzas. We ate our salads and a few minutes later they brought my pasta. It was so cold in the restaurant I thought I better start eating it, plus Bill eats so much faster than I do that it never hurts when I have a little head start. But we waited and waited, and I was starting to slow down and get full, when our waiter came to the table and said, "The pizza baker just arrived so your pizza will just be a few minutes more; you're first in line!" in a cheery tone of voice.
Pizza baker just arrived? Um, why didn't he alert us to the fact that the pizza baker wasn't there when my husband ordered pizza, or why didn't they hold my pasta, for at least a little while longer? Actually, the waiter was right, and the pizza did arrive just a few minutes later. I was afraid that they might skimp on the baking time, but it seemed to be baked sufficiently. If I had a complaint, it was that some of the arugola wasn't fresh, and was yellowed. He had gotten a pizza with fresh mozzarella and prosciutto topped with arugula, a great combination. I love the way the pepperiness of the arugula contrasts with the oiliness of the ham and the creaminess of the cheese. My farfalle with grilled chicken and creamy pesto was good, but then I had terrible indigestion later on that night, so I don't know if something in the dish was off or I was just getting sick.