Pound cake troubles
I'm having problems either with my cake techniques or with my loaf pan. I made this delicious pound cake last weekend, from Martha Stewart's baking book: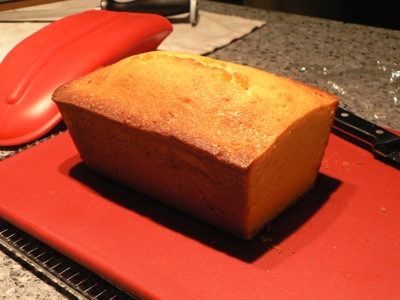 It tasted great, but the liquid ingredients seem to have been pushed to the center, where they bubbled up in a little puddle in the middle of the cake's top, which had to be dug out with a spoon. I could see that that part of the cake wasn't finished, but the sides were getting very done, and I had to get it out of the oven. And the whole cake was fine except for those few cubic inches up top. Is this normal, or is something wrong with my pan? A similar thing happens with Nigella Lawson's wonderful dense chocolate cake, a cake that falls dramatically in its wet center every time I make it.
I used my new stand mixer for the pound cake, so everything should have been well incorporated. The oven was at temperature according to my thermometer. The (nonstick) pan is the right size, and I rotated it halfway through as instructed. And yet, the bubbling cauldron effect.
Still, it's good cake.
3 sticks unsalted butter, room temperature
2 cups all-purpose flour
1 teaspoon salt
1.5 cups sugar
1 teaspoon vanilla extract
6 large eggs
Preheat to 350ºF. Butter a 9 × 5-inch loaf pan. Whisk together the flour and salt. In the bowl of an electric mixer fitted the paddle, beat the butter, sugar, and vanilla until light and fluffy. Add the eggs one at a time, beating until combined. Add the flour mixture with the mixer on low, and beat until just combined.
Pour the batter into the pan, smooth with an offset spatula, and bake for about 55 minutes, until golden and a tester comes out clean. Cool on a wire rack for 15 minutes, and then turn out the cake to cool completely. Dust with confectioners' sugar before serving, if desired.