Poulet rôti à la provençale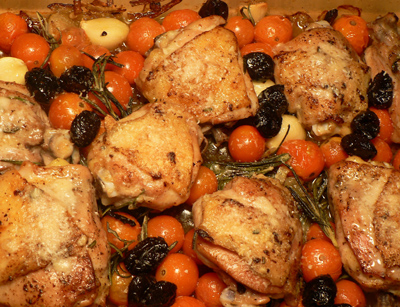 Ingredients
2 pounds chicken thighs (and/or legs, all with bones and skin, of course)
Kosher salt and sugar
A few generous sprigs of rosemary
2 tablespoons olive oil
2 yellow onions, chopped
1 pint cherry tomatoes, stemmed
1/2 cup pitted French black olives
Garlic cloves, peeled or unpeeled
Parmesan cheese, grated (optional and wonderful)
Place the chicken thighs in a freezer bag and rub them with kosher salt and sugar. Add a sprig of rosemary (and any other herbs you have on hand, chopped or not), seal the bag, and refrigerate for at least three hours but up to two days. For an explanation of this fabulous technique, visit Emily Kaiser.
Preheat the oven to 400ºF and place the chicken pieces on a paper towel–lined plate to dry. Heat the olive oil in a large skillet and brown the onions. Remove them to a roasting pan. Pat the chicken pieces dry, and place them skin-side down in the same skillet, with fresh oil if necessary. Turn up the heat and let them be for a few minutes. The skin must be brown and crisp. After five minutes or so, flip them over and brown the other side.
Meanwhile, put the tomatoes and olives in the roasting pan and toss them with the onions, several cloves of garlic, and more rosemary. Add pepper, but be very careful about salt—the chicken is quite salty, as are the olives. Once the chicken is browned, place it on top of the tomato mixture, and roast for 30 to 40 minutes. Five minutes before you are ready to eat, sprinkle a substantial amount of grated cheese on each thigh. It will melt and begin to brown, at which point you may eat.
The chicken will be cooked through and extremely moist. The tomatoes will burst in your mouth with gentle prodding from your tongue, so be careful, and chew with your mouth closed.