Poulet en cocotte
Cook's Illustrated has an interesting recipe in the latest issue for "French chicken in a pot," a dish devised to replicate a poulet en cocotte that the writer, Charles Kelsey, enjoyed in a "Parisian bistro" (make me gag!) last year. When the waiter presented the bird, Kelsey was initially dismayed by the flabby, pale skin. But the flavor, he found, was better than that of roast chicken. He thoughtfully writes,
The idea with poulet en cocotte is to cook the bird covered in the oven without adding any liquid. This recipe has you brown it first, which frankly I'd skip next time. It looked better, but I still didn't eat any of the skin; all I did was splatter a bunch of grease around the kitchen.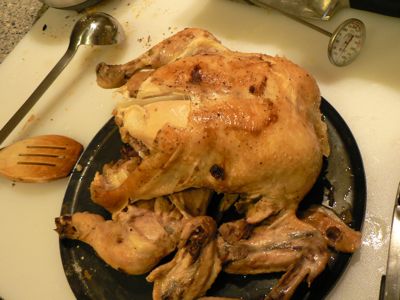 The chicken lets out a ton of liquid and fat as it cooks, and it becomes extremely delicate. When I put it in the pan, it was all tightly wound up. When I opened it, she had spread out like some trampy bird, legs all over the dutch oven. The flavor was delicious as promised, and it's a recipe worth remembering.
Not that you even need a recipe. Preheat the oven to 250º. Brown a well-seasoned, 4- to 5-pound chicken in a large dutch oven in olive oil. Scatter around some chopped onion and celery, peeled garlic cloves, a bay leaf, and fresh rosemary. Once the chicken is browned, cover it tightly and roast it for 80 to 110 minutes. Let it rest on a carving board for 20 minutes while you make a nice jus from the drippings (make sure to remove as much as fat as you can). Stir in some lemon juice or white wine vinegar to taste, and serve the bird with the jus on the side.