Potato soup
By sheer coincidence, mom and I both made soup tonight with things lying around the house. I can attest to her amazing ability to make a soup out of nothing. A few years ago on Halloween, after the trick-or-treaters stopped coming, we realized we had nothing in the house to eat. Mom went out to the porch, and an hour later, she had a fabulous pumpkin soup on the table.
I planned to make chicken breasts tonight, but I had a surplus of potatoes with which I decided to make a hearty potato soup, which I realize looks a bit like puke.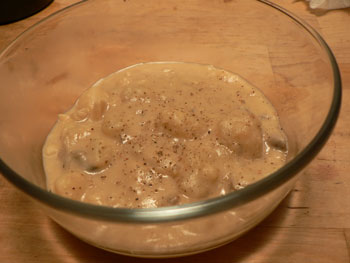 This was only the second soup I've ever made, and I'm starting to realize how easy and fun it is. I didn't even bother with any of the thousand recipes I found at epicurious, because I had several things I wanted to taste specifically. There is little to no chance you'll ever have all of the following lying around, but the point is to just throw in whatever comes out positively in your flavor calculation.
I cooked a few dried cèpes in some chicken broth, added three chopped Russet potatoes, one chopped onion, one star anise pod, and five or six chopped garlic cloves. Once the potatoes softened, I mashed them with a wooden spoon, added a dollop of heavy cream and salt and pepper, and then threw in a big hunk of gorgonzola dolce. It all mixed together very well, especially the dried mushrooms, gorgonzola, and star anise.
Best of all, I didn't break any large appliances.