Pork roast and whipped cream
I'm busy at work today, but I do have two pictures to post and a small discussion to start. First of all, here is a shot of n8's delicious dinner (from the cookbook you gave him, mom) from Sunday night: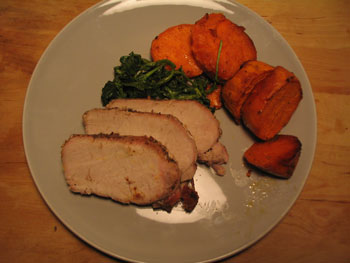 It's a pork roast flavored with jerk seasoning and accompanied by luxuriously soft, caramelized yams and wilted watercress. I had a hand in cooking the roast and it turned out a bit dry, but we learned our lesson and we have a roast left over from the FreshDirect delivery with which to give it another go.
For dessert, we had my Guiness Ginger cake with freshly whipped cream, courtesy of my bad ass 9-speed.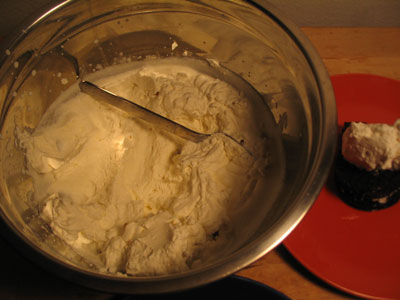 I got my panties in a twist over getting heavy cream with the right content of milk fat. I was so confused. I've always seen my mom using "heavy whipping cream," which is apparently different from light cream, heavy cream, and light whipping cream. I read online that cream must have at least 30% milk fat to be whippable. Anyway, n8 finally went and bought a small container of regular old heavy cream, and it whipped beautifully.
Here's a question, though: can you save whipped cream and eat it the next day? We did just that, and n8 didn't really notice a difference after 24 hours. I found it a bit mealy, but that might have been mental. It certainly retained its stiff peaks.
Another question: every time I read about whipping cream, there are warnings about whipping it too much and ending up with butter. Is that true? Is that all butter is? If so, why don't we all just make our own butter? Please advise.