Pollo alla cacciatora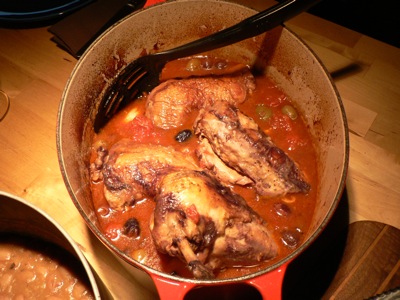 On the rare nights that I'm home these days – often only one night per week – the last thing I want to do is prepare an elaborate dinner and mess up my small, windowless kitchen with a bunch of grease and dishes. I know I have a starving man to take care of, and I should make an effort to apply some of what I'm learning at home. Nevertheless, dinner at our house is usually dried pasta or pot beans or salad or scrambled eggs.
But the weather this weekend got us onto our bicycles and out to Fairway, and I decided I would take ten minutes to find a recipe and make it, come hell or high water. I found Jamie Oliver's recipe for pollo alla cacciatora, and it looked pretty darn similar to a recipe we made in school. It also involved hardly any ingredients I didn't have, and it would give me a chance to quarter a bird, so I went ahead and committed myself to the dish.
The key to this chicken is marinating. If you don't organize yourself to marinate the chicken overnight, then don't bother making it. Anyone can sear off chicken and braise it, but it won't be this tender or taste this good. You hardly need a recipe:
1 4-pound chicken, quartered
8 bay leaves
rosemary sprigs
garlic cloves (2 crushed and 1 sliced)
1/2 bottle red wine
flour
olive oil
6 anchovy fillets (you really can't detect them)
about 1 cup pitted olives
1 28-ounce can tomatoes
Season the chicken pieces with salt and pepper. Place them in a bowl with the bay leaves, a few rosemary sprigs, and the crushed garlic cloves. Cover with the wine, adding more if you need to. (Jamie says to use chianti—-I hit the box!) Let marinate overnight in the fridge, rotating the chicken pieces at least once if you think of it.
Preheat the oven to 350ºF. Reserving the marinade, drain the chicken. Dry it on a towel, lightly dredge it flour, and brown it on all sides in olive oil in an ovenproof cooking vessel (such as a dutch oven). You'll probably need to do this in two batches unless you have a huge pan. Don't skimp on the browning. Set the chicken aside and throw off some fat if it looks ridiculous.
Back on the heat, add the sliced garlic, and fry till browned. Add the anchovies, olives, and tomatoes. Break up the tomatoes a bit with a wooden spoon. Return the chicken pieces to the pan with the marinade, and bring to a boil (this is necessary to make the marinade safe—-you can also boil it in another pan while the chicken is browning to speed up the process).
Cover the chicken with a tight-fitting lid and bake for 90 minutes. Skim off any fat that's risen to the surface, season if necessary, and serve, preferably with a loaf of crusty bread and a big bowl of beans.