Philippine civet coffee
I received as a gift today a small jar of Philippine civet coffee, a peculiar variety of coffee bean that is harvested from the droppings of a mountain rodent in the Philippines. Has anyone tried this?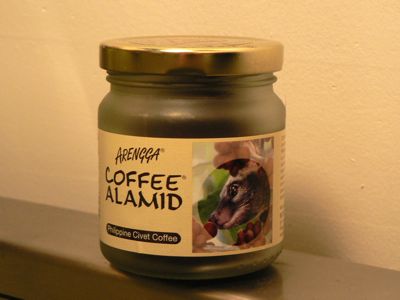 When I was showing it around to people at work, even fellow coffee addicts dropped their jaws in disgust. Nathan wanted me to rinse off the beans before brewing. As if they hadn't been cleaned and roasted already! I can only imagine what Mom will say. Apparently these civets eat only the best coffee cherries, which have the beans inside. The beans pass through the animal whole, and I imagine because of the grossness and tedium of collecting them, it's the most expensive coffee in the world (around $250 per pound, if you believe the linked story above).
The smell of the beans is intense, and definitely stronger than what I'm used to. I'll report on the taste tomorrow in a comment. For the first batch (and the jar is so small, there will only be two batches), I'm cold-brewing it. I figure that's a gentle way to treat the beans, and the best way to appreciate the flavor. It's also 75º in my apartment because of our new, overactive boiler, so cold coffee will be welcome in the morning.