Peter B's macaroni and cheese
About a year ago, Nathan and I got lost in Yonkers with Emily B's family. Her dad made what she described as his "famous" macaroni and cheese. My expectations were high, because I know that Mr. B is a great cook, but I also know that I have a particular love of mac and cheese, and that my mom's rules.
We had no idea what we were in for. We behaved like a couple of homeless people, completely emptying the three-quart dish as her parents watched us in shocked silence. Were we starving, or was it really that delicious? Only a second tasting would tell.
I bothered Emily for months to give up the recipe; finally, I opened her recipe book and copied it myself. Mr. B's secrets are a layered construction of tubular pasta, Fontina cheese, and a thick béchamel. Without further ado, I present the recipe for a decadent macaroni and cheese that trounces Ruth Reichl's.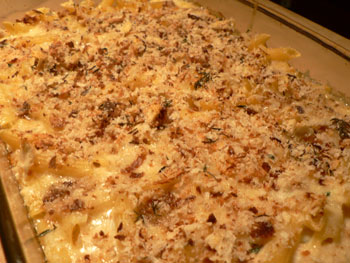 Peter B's macaroni and cheese
The béchamel: 3 tablespoons unsalted butter, 3 tablespoons flour, 2.5 cups hot milk, 1/2 onion, diced
The seasonings: 2 bay leaves, 1 tablespoon fresh thyme leaves, nutmeg, salt, pepper
The dish: 1 pound mostaccioli or penne, 3/4 pound Fontina (Val d'Aosta), 1 cup buttered bread crumbs
Cook the butter for the béchamel over low heat for about four minutes, until it is bubbly. Whisk in the flour, and cook for another few minutes. Whisk in the milk in stages, and add the seasonings. Remove from the heat and set aside. Preheat the oven to 350ºF. (Note: I had the onion in my ingredient list, but I didn't see it in the procedure, which was probably a copying error on my part. I had already diced it, so I cooked it for ten minutes in some butter and whisked it into the béchamel. This worked perfectly well. Perhaps Emily will check the original recipe for us and leave a comment.)
Cook the pasta until it is al dente and drain it. In the meantime, prepare everything else. I took an old hunk of bread from the freezer and ran it along my box grater to make the crumbs. I mixed them by hand with about two tablespoons of butter, more thyme, and pepper.
Butter a 3-quart baking dish. Pour in one third of the pasta. Cover it with one third of the cheese and one third of the sauce. Repeat, and repeat again. Cover with the bread crumbs, and bake for about 30 minutes.
What a fabulous dish! We each had two helpings, and we went back to the dish with our forks (you know, pretending to just have one bite when in fact you're having an entire third portion like the pig you are).