Pesto my way
Although most of you have probably made this dish hundreds of times, I have a couple of tips that may be new to some. First of all, at this time of year when large bunches of fresh basil are not available, at least to us in the hinterlands, I use fresh spinach, and substitute basil-infused olive oil for part of the olive oil in the recipe. I don't bother with those sad little bunches of blister packed "fresh" herbs that hang from pegs in the produce section of the grocery store; I don't think they're worth the money. What I do buy are the small, squat jars of water-packed chopped basil that you can usually find, also in the produce section, for a couple of dollars a jar. I think they give a fresh herb taste to sauces and soups, and I put a big spoonful in the spinach pesto along with the rest of the ingredients.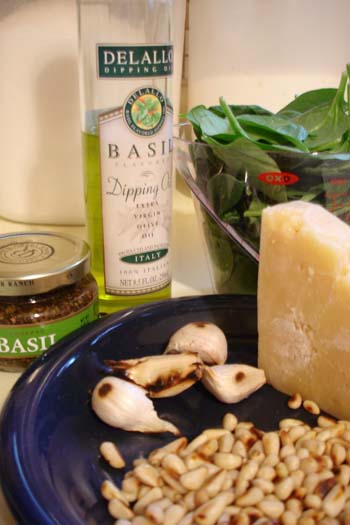 1/4 cup pine nuts
3 large cloves garlic, unpeeled
2 cups packed fresh spinach leaves
1 tablespoon chopped jarred basil, or 1 teaspoon dried
1/4 cup basil-flavored olive oil
3 tablespoons olive oil
1/4 cup freshly grated parmesan cheese
1/2 lb. green beans and 1 potato, cubed, if desired
1 lb. pasta
Toast the nuts in a small skillet, watching carefully to make sure you don't burn them! Spread them out on a plate to cool. Add the garlic to the skillet and toast, shaking the pan, until the garlic has brown spots on all sides. Remove from the pan and put on a plate with the nuts to cool. While the garlic and nuts are cooling, grate the cheese and put everything else into the food processor. Pulse until well combined, and add the nuts and peeled garlic. Continue to pulse, scraping the bowl once or twice until the pesto is smooth.
Cook the pasta and optional vegetables. I just boil them all together in the same big kettle because they get done at the same time. Drain and reserve about 1/2 cup of the cooking water. Toss everything with the pesto and serve hot, adding as much of the reserved cooking water as you need to get the pesto to mix in smoothly.
note: Toasting the garlic like this removes the raw garlic flavor that can spoil so many homemade pestos. This recipe is adapted from Cook's Illustrated, The New Best Recipe.