Perfect short ribs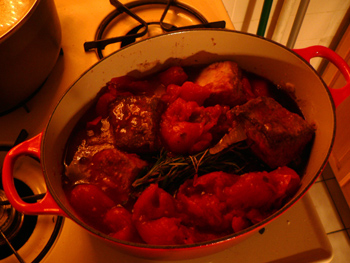 Two days and five hours of braising later, the short ribs pictured above turned into the best dinner I've ever made. FreshDirect has bone-in short ribs for about $3 per pound right now—probably more than they should cost but still a good deal. I bought four pounds and loosely followed Mom's method for pot roast.
I intended to eat the dish last night, but when we nailed down another couple to eat with us tonight, I decided to refrigerate and then reheat them, which is better for such a stew anyway. So yesterday, I dredged them in flour and seasonings, browned them well, browned a few chopepd onions, and then stewed it all for three hours in plenty of red wine and a can of tomatoes, along with garlic and a generous bunch of rosemary and thyme. After letting the pot cool on the stovetop (which takes forever in my new Dutch oven!), I stuck it in the fridge.
Before reheating them tonight, I spent a few minutes prying off the centimeter-thick plank of fat that covered the surface. This may be the chief advantage to the two-part cooking method. I replaced the lost liquid with wine, added a few chopped carrots and a handful of chopped niçoise olives, and cooked them for another two hours in the oven. The finished ribs were as close in texture to butter as meat can be—quite similar to the puréed potatoes and applesauce on the plate with them, in fact, with nothing but the soft crunch of carrots and olives to break up the wonderful, velvety monotony.