Paul Bertolli's food processor sorbet
I'd eventually lilke to have an ice cream maker, but I'm waiting until I get a stand mixer so that I can just get the attachment, instead of getting two separate appliances. I love the idea of making my own ice creams and sorbets, and I was thrilled to find a recipe for sorbet that didn't need an ice cream maker at all. Paul Bertolli's Cooking by Hand is full of recipes that you can do mostly without special appliances. This is great for people with small kitchens (and no good for people who aren't willing to spend a lot of time to make something that could easily be bought).
You do need a food processor for this sorbet, although a blender might work too. And you need a quart of the most fragrant and delicious strawberries you can find.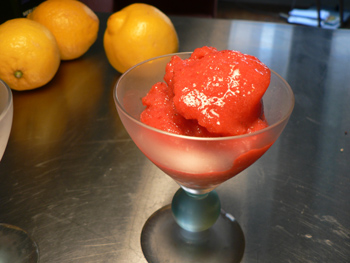 The recipe is barely a recipe. Stem the strawberries, spread them on a parchment-lined baking sheet, and freeze them solid (about two hours). Put the berries in a food processor with 5 tablespoons of sugar, and pulse them until the fruit breaks up. Add 1/4 cup of water and purée the mixture. Pour it into a container, and freeze for about two more hours, until you can scoop it. I stirred it periodically as it was freezing, but this is not in the directions.
Bertolli writes that the intensity of this sorbet "is due to the low cutting action of the processor blades." And it does taste and smell intensely of strawberries. If you start this recipe about two hours before a summer dinner party, you can shock your guests at the end of the meal by pulling out a quart of beautiful homemade sorbet, which they'll smell before they can see.