Paschal lamb
I made a huge leg of lamb for Easter dinner. It was eight pounds and intended for just three skinny boys: me, Nathan, and Uncle Ted. We did pretty well, considering our side dishes and dessert, but we probably had five pounds of leftovers, most of which went in the freezer. Look at this beast: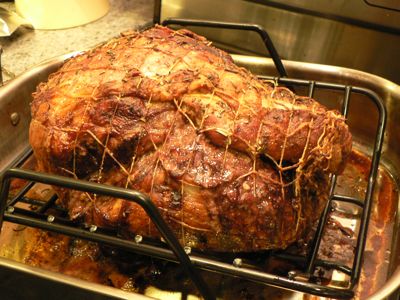 Here she is being cut up: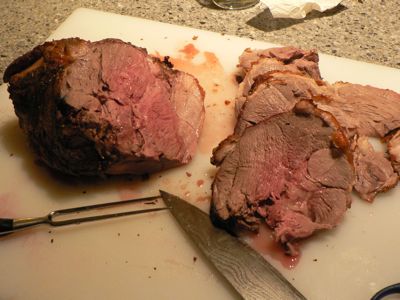 Leg of lamb is expensive but easy. I sort of followed Alice Waters' recipe and sort of went on instinct. I seasoned the leg well a day in advance (a French chef told me later that you should never salt more than two hours in advance—you can't win with these people!). I took it out of the fridge five hours before cooking it, so that it could warm up in the center and cook evenly. I didn't smear it with oil, but I did put chopped rosemary and sliced garlic on it. It browned in about twenty minutes at 400º, at which point I flipped it over to brown the bottom. When that was done, back up it went, and I roasted it for about 90 minutes, until the deepest part reached 128º.
It was perfectly done, as far as my lamb experience goes: red in very center, pink around, and cooked through but tender at the outside. With roasted vegetables and a green salad, it made a lovely Easter dinner.
Thick slices of lamb cooked in a hot skillet with plenty of sea salt make great leftovers for as long as you can stand to eat lamb. I'll take the final hunk of it out of the freezer when we're burnt out on chicken and pork chops in a month or so.