Our new kitchen island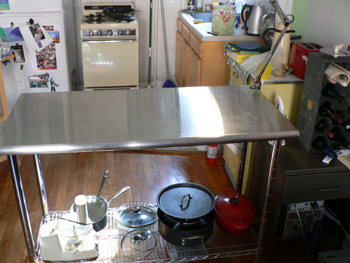 Another score score from my favorite thrift shop yesterday: a stainless steel kitchen counter. I've coveted one of these for months, thinking it would be the perfect replacement for the standard Ikea cart that every other young person in New York owns. The cart has served me well over the years, and I'll miss its drawers, but it was stained and chipped, and I never thought it was deep enough for tasks like rolling out dough, or anything that involves tossing flour. Depth seems more important than width in a kitchen counter for some reason, and this is two feet deep—seven inches deeper than the cart, and almost as deep as Mom's new counter in Pittsburgh.
I yanked the $150 price tag off of this piece (that's how you buy furniture at this place) in the nick of time—at least three people were circling it as I frantically discussed the purchase on the phone with Nathan. It fits comfortably into the "kitchen," taking up barely more room than its predecessor, and with much more usable space. Even its single shelf seems to have more area than the cart's two shelves combined (again with the depth!). I'm in the market now for another shelf to add. A third one up near the top would be perfect for baking sheets, lids, and other large, flat items. I'll definitely be making a trip down to the Bowery in the coming days looking for a deal.