Onion custard pie
The longer you don't post, the longer you don't post. This seems to be true in all sorts of activities: getting your hair cut, going to the dentist, replying to an email, relacing your shoes. But I won't make excuses. I've made an incredible onion tart, and I'm putting it on here even if no one reads about it.
If this blog hasn't convinced you to purchase Alice Waters's new cookbook, shame on you. It's the only book in my kitchen right now. I don't always follow the recipes exactly; sometimes, I open it and skim a few recipes and then I'm off and running. I've been making her rustic onion tart pretty regularly, but I wanted to try out the custardy version, Onion Custard Pie.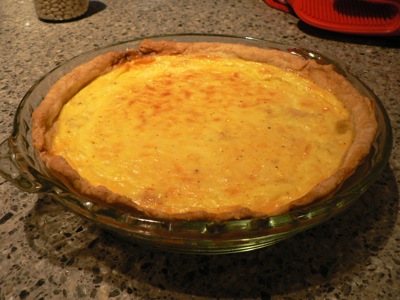 This takes a lot more time to make than the non-custard version. There's lots of resting and blind baking of the dough. But it was worth the three hours total that I spent on it. We rejoiced in every salty, fluffy bite. My mouth waters at the thought, and I regret having sent all the leftovers to work with Nathan. Alas, I'll just have to make it again this weekend.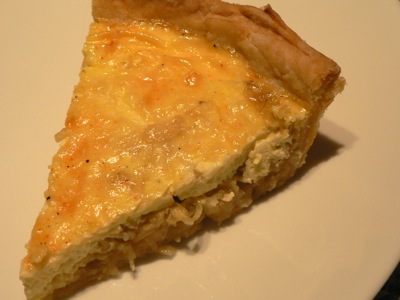 First you'll need 10 ounces of dough, the recipe for which you can find in my other post. Roll out the dough to a 12-inch circle. Line a 9-inch tart or pie pan with it, and fold the edges over for a double thickness. Prick the bottom with a fork, and refrigerate for one hour or more.
In the meantime, cook four thinly sliced onions in four tablespoons of butter for at least 30 minutes, until golden brown and soft. Season well, and don't rush this. When they're ready, spread them on a plate to cool.
Preheat the oven to 375ºF. Line the dough with a sheet of parchment and fill it with beans or pie weights. Bake until golden at the edge, about 15 minutes. While that's baking, whisk together 1.5 cups half-and-half, 2 eggs, 2 yolks, 1/2 cup grated gruyère (I had cheddar), salt, pepper, and a pinch of cayenne.
Spread the cooked onions on the bottom of the baked shell, and pour in the custard. Bake at 375ºF for about 40 minutes, or until it's lightly browned and puffy. Let cool somewhat before eating. Enjoy!
(A note about my life: in the next month, I am getting married, spending two weeks in France, entertaining a parade of house guests, and moving to Brooklyn. Eat activity will remain light. Thanks for your undying loyalty!)