Nigella's dense chocolate cake
In anticipation of a party I'm arranging, I flipped through How to be a Domestic Goddess by Nigella Lawson today. She has always been one of my favorites to read and watch, but today was the first time I tried one of her recipes. I opened the book to the chocolate section, and I came across something that appealed to me right away: Dense Chocolate Loaf Cake.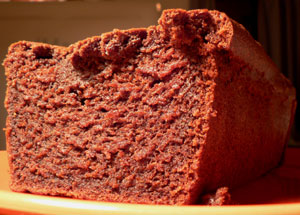 I'm not much of a dessert person, and my tastes are specific: it has to either be tart, dense, or salty. This cake is very dense and chocolatey—right up my alley. It hardly tastes like dessert despite all the sugar and the lack of salt. It's heavy and heady, and it's a perfect treat to have lying around. Nigella says she likes to spread cream cheese on it, although trying that with Philly would result in quite a mess. Vanilla ice cream would be perfect, or even a bit of crème fraîche.
Dense Chocolate Loaf Cake
1 cup (2 sticks) soft unsalted butter
1 2/3 cups dark brown sugar
2 large eggs, beaten
1 teaspoon vanilla extract
4 ounces bittersweet chocolate, melted
1 1/3 cups all-purpose flour
1 teaspoon baking soda
1 cup plus 2 tablespoons boiling water
Preheat the oven to 375ºF. Grease and line a 9×5-inch loaf pan (I used butter and parchment paper, and extraction was a cinch).
Cream the butter and sugar, either with a wooden spoon or with an electric hand-held mixer, then add the eggs and vanilla and beat in well. Next, fold in the melted and slightly cooled chocolate, blending well but not overbeating. Then gently add the flour, to which you've added the baking soda, alternately spoon by spoon, with the boiling water until you have a smooth fairly liquid batter. Pour into the lined loaf pan, and bake for 30 minutes. Turn the oven down to 325ºF and cook for another 15 minutes. The cake will still be a bit squidgy inside, so an inserted cake tester or skewer won't come out completely clean. (I baked mine for at least an hour; after 45 minutes it had barely set).
Place the loaf pan on a rack, and leave to get completely cold before turning it out. Makes 8-10 slices