Nigella Lawson
I am over Nigella Lawson recipes. Feel free to argue with me, but I have done three of them in the last week, and each one had rather serious flaws. A long time ago, even a few months ago, I would have chalked it up to my own inexperience. But I have learned a few things since starting this blog, and I'm more than capable of following a recipe. I think.
As much as I loved the dense chocolate cake, as did everyone else at our Sunday party including the birthday boy, the baking time is off by about thirty minutes. Furthermore, she instructs you to add water and flour to the batter spoonful by spoonful "until you have a smooth and fairly liquid batter." Does that mean that you should stop adding when the batter looks right? And what does "fairly liquid" look like anyway? The first time, I stopped short of adding the full amounts when I thought it looked right. The second time, I added everything. Both times, it took well over an hour to bake, and I have a hot oven.
I got started with Nigella when I saw her recipe for a gin and tonic gelatin mold, which sounded perfect for a party. A quick google search found other home cooks who had trouble with this one. Perhaps it's because she tells you that your six cups of liquid ingredients should fit into a four-cup gelatin mold. Am I crazy, or can that not possibly be right? "You should have reached the 6-cup mark; if not, add more tonic water, gin, or lemon juice to taste." And then you have to get that into a four-cup mold. Either way, it never set. I consulted with a master pastry chef, and she said to add more gelatin. I finally got it set, but at that point it was too gelatinous. If what is essentially a giant Jell-O shot sits uneaten at a gay party, you know there is something wrong with it.
The third and final Nigella recipe was for pizza rustica, which in all fairness was delicious. I was hoping to find the recipe online, because frankly it's too long to type out and not really worth making. It's a double-crusted pie containing sausage, ricotta, provolone, mozzarella, parmesan, parsley, prosciutto, mortadella, and egg. I got almost all of the Italian ingredients at the wonderful Di Palo on Grand Street, where they give you a generous sample of whatever you're ordering.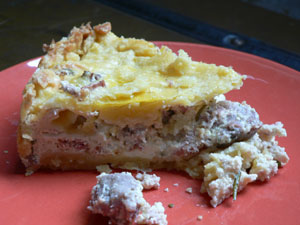 I had some trouble with the pastry, but that may be due to the heat in my apartment and my lack of expertise. Still, though, it's annoying for Nigella to describe her pastry technique as "foolproof on every level" when you have melted butter on your hands and sweat dripping from your brow. I had much less trouble with André Soltner's crust.
I'll give this lady one more chance if someone presents us with a truly great recipe. Mom: aren't you a fan?