Nick Malgieri's Best and Easiest Banana Cake
As opposed to some of his more difficult banana cakes, I suppose…
We suffer from feast or famine in the banana department in our house—we are either out of them or have too many getting too ripe all at once. Poppy likes one every morning for breakfast, but it has to be just right, not too green and not too ripe, and Calvin and I don't like them at all. In fact, I absolutely loathe them and everything about them—their taste, their smell, and the way they spoil everything they are an ingredient in by promiscuously depositing their slime all over what they come in contact with. For instance, if someone unwisely adds bananas to a fruit salad, the salad is completely tainted with banana flavors; unlike, say, blueberries which you can pick out if you don't like them and happily eat the rest of the fruit. The same with a trifle—if it is made with bananas there is no way I can eat around the bananas and enjoy the custard and ladyfingers; everything tastes of bananas.
And another thing about baked goods made with bananas—you automatically know you're having half-rotten fruit fobbed off on you. No one wakes up in the morning and says, 'It's a lovely day to make banana bread!' No, they wake up and go down to their kitchen, like I did today and say, 'Jeez, look at all those speckled bananas; I'm damned if I'm throwing them out at those prices! What can I bake?!'
Hence this banana cake from How to Bake, by Nick Malgieri: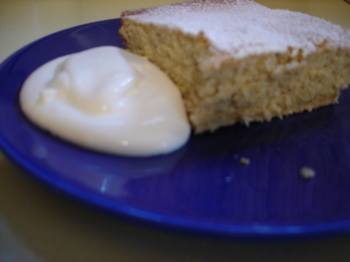 12 tablespoons softened butter
1/2 cup brown sugar, packed
1/2 cup granulated sugar
3 large eggs
1 teaspoon vanilla
1/2 teaspoon baking soda
1 teaspoon baking powder
2 1/2 cups cake flour
1 cup mashed, not pureed bananas (2 large)
3/4 cup milk or buttermilk (I used buttermilk)
Preheat oven to 350º. Grease 9×13 inch cake pan, line with parchment paper if you plan to remove cake and grease paper.
Using hand mixer set at medium or KitchenAid fitted with paddle, beat butter until light; gradually beat in sugars and continue beating until very light. Beat in eggs one at a time, beating smooth after each addition, scraping bowl occasionally. Beat in vanilla. In another bowl, stir the baking powder and soda into the cake flour and add to mixer bowl. Stir in the bananas and milk to mix. Beat on low speed for 2 minutes, scraping the bowl and beaters several times.
Scrape into the prepared pan and bake for about 35 minutes, or until cake is well-risen and toothpick inserted into center comes out clean. If removing cake from pan, cool on rack for 10 minutes before covering with another cooling rack and inverting. Turn right side up to finish cooling. Serve cake with lightly sweetened whipped cream.
Mr. Malgieri stresses that the bananas must be mashed and not pureed for the best flavor, which made me a little nervous after reading The Wednesday Chef's experiences with banana cake recently, but judging from the satisfaction around my dinner table, all seemed to turn out well. I, of course, didn't eat any.