Mom's big adventure
Some of you may remember that Poppy and I have our 20th wedding anniversary coming up in November and are planning a trip to Italy as a way of celebrating a heck of a marital journey. Or were, until Alitalia called a week or so ago and informed me that they have cancelled our non-stop flight from Dulles International Airport to Milan. (Funnily enough, everyone to whom I've told this story asks me why, as if Alitalia would share their corporate reasoning with me! But don't think I didn't ask them.) I was willing to go to any city in Italy to which I could get a non-stop flight from an airport in the Baltimore/Washington area, because I think everywhere in Italy is gorgeous and we could have a good time and wonderful food anywhere we went, although in November I would have preferred to head a little further south.
However, such was not to be; there are simply no non-stop flights to any cities in Italy on any airline from the D.C. area, at least that I could find. I find that so odd since you'd think that diplomats and spies would be flying back and forth all the time. I guess they fly on military or private aircraft.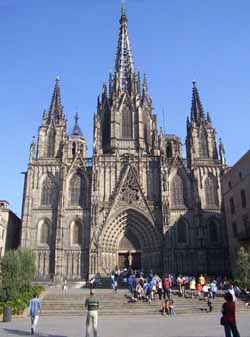 So, since we will be forced to change planes at some point I decided to change the whole itinerary. Leland has been telling me for years that Spain is just as beautiful as Italy, but much less expensive, with fewer tourists, so now we are going to Barcelona, flying on Lufthansa Airlines and changing planes in Munich. We will be in Spain from November 9 until November 21, a nice long visit, so if any of my readers have suggestions about places to stay in that part of the country, things to see, or restaurants, I am just beginning to plan the trip now. We're thinking of renting a flat or small apartment in Barcelona and using it as a home base, and taking day trips from there, although if we rent a car parking might be a problem if we do that. We might be better off if we go to a smaller town and find a bed and breakfast outside the city; as you can see, I'm open to suggestions. Leland tells me there's a wonderful market in the center of Barcelona and I'm looking forward to seeing that. One drawback is the language – Italian is a little easier for me since I studied it for several years in college, and at least know how to pronounce it as written, but Spanish is a mystery; I've had no exposure to it at all outside of what I heard watching Sesame Street with the kids years ago.