MoMA café
I went to the Museum of Modern Art today with Jake and his parents, which was a real treat because I'd never been and I needed a good excuse to procrastinate my proofreading homework. The museum is beautiful, except for some parts that were dirty and some doors that desperately needed WD-40. But my favorite part was the café (Café 2).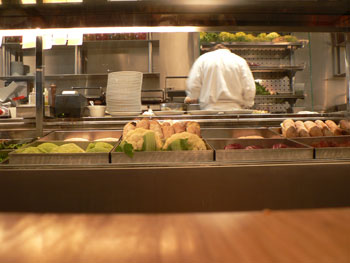 We were all exhausted after taking in the Munch, the Spanish architecture, and the design galleries, and despite the long lines, we decided to sit down for coffee and a snack. Normally, just the idea of a museum café is enough to send me into a panic attack, but this place is run the way Emily describes the museum's administration, like a well-oiled machine. The line is long but fast, the host is dapper and polite, and the tables are comfortable. Most importantly, the food is excellent, if slightly pricey.
Jake's mom and I both had the Tuscan soup, full of pinto beans, Parmesan cheese, and a slice of Italian bread ($6). Jake had a portabello panini ($9 or $10), and his dad had roasted brussels sprouts with chestnuts, pecorino, and pancetta ($6). It's a lovely room full of mouthwatering smells. And the table settings and accesories are awesome, especially the creamer, the lid of which was weighted with a steel ball, causing it to open automatically when you pour. I love MoMA.