Mom shops at Costco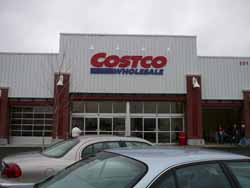 I know that warehouse grocery shopping is anathema to the shop local crowd, and I am sympathetic to their position; after all I did just subscribe to my first ever CSA farm box. However, one must buy toilet paper and other sundries and so I was thrilled when a Costco opened within driving distance of my house.
I finally got out to Homestead last week and bought a membership. Although it cost $50, they were handing out $10 cash cards, plus an additional $10 if you applied for an American Express card at the same time, which you need to pay for your groceries unless you use cash or debit, which brought the cost of membership down to $30. (I'm sure my husband would argue with my logic.) Then naturally I ran around buying things I probably wouldn't have bought otherwise, like a "down-alternative" quilt for the guest room.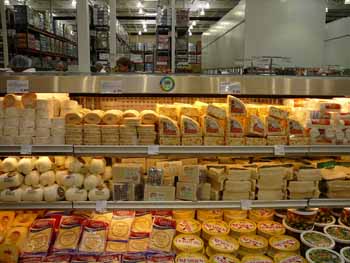 However, I was really impressed with the selection of cheeses; I bought a hunk of English Stilton loaded with dried apricots, a cheese I have never seen before, and it's so good. They have Parmigiano Reggiano, goat cheese, Dutch gouda, gorgonzola, ricotta salata, fresh mozzarella, Edam, Canadian extra sharp cheddar, and like the Stilton with apricots, some others I had never heard of. Most of the cheese is in manageable quantities, not big 5 or 10 pound portions, although those are available, too. And they have a big fresh produce section. Although it won't be long before my farm box starts delivery and I'll have more produce than my small family will be able to eat, at least for the summer months, right now I'm feeling a bit fresh fruit and vegetable-starved. I got some beautiful asparagus, blackberries, mangoes, and strawberries.
They also have a large fresh bakery department, as well as a fresh meat section. Our local store naturally doesn't sell liquor or wine because of Pennsylvania state liquor laws . I noticed that they've got an automotive department but no gas pumps; I gather that some Costco stores sell gas, too, which would be nice. I think my favorite tab on the Costco website is the Funeral tab, where you can order caskets, urns, and "keepsakes", whatever they are.