Mom says good-bye
Construction, or I should say destruction, finally started on the old kitchen today. Doug Orie, of Orie Construction is doing the work for me and I have been assured by my friend Nancy Stillson that he has a good eye for color and is reliable. He's sanding and refinishing my old beech cabinets, putting in a new floor and counters, and installing a new stove and over the range microwave, as well as putting in new lighting and shelves. He'll also be giving the whole kitchen a fresh coat of paint and texturing the ceiling so it won't look so bumpy.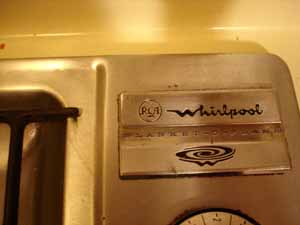 Good-bye, Blanket 'o Flame cooktop!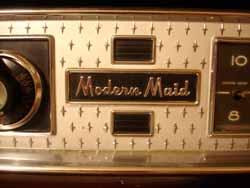 Good-bye, Modern Maid oven! (too small to roast a turkey in)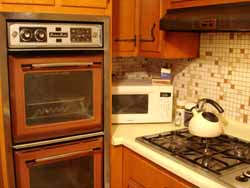 Good-bye, cramped cooking corner with broken broiler that explodes in my face every time I leave you on for more than five minutes, as well as hideous yellow formica counters that clash with the wall tile!
Good-bye, old fashioned hammered metal hardware on beech cabinets that dates from my childhood! Nostalgia gets old after awhile…