Mom revises her list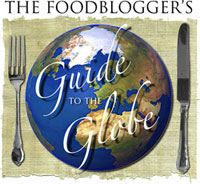 Well, folks, it seems that being new to group blog experiences and all, I misinterpreted the directions for Five Things to Eat Before You Die and rambled on about five things I wanted to try before moving on to that beautifully equipped kitchen in the sweet hereafter, rather than five things I have personally already eaten and think everyone else should try before etc. And actually I'm a lot better at telling other people what to do than I am at "sharing", so this way you have the benefit of reading about my hopes and dreams, as well as my previous experiences.
1. Fresh cherry pie, home-made with sour cherries – yes, I'm sticking with a choice from the previous list, and for the same reasons; the season is short and this is a pie that you simply don't get in restaurants.
2. Ice cream made by ag students and sold at the University Creamery on the campus of Penn State University in State College, PA. It's got to be the best ice cream in the world.
3. Real Philadelphia sticky buns, preferably with pecans – actually Whole Foods sells a pretty good pecan sticky bun, but it's not as good as the ones you can get in Philadelphia. My mother, Philadelphia born and bred, used to make these at home, sometimes for Christmas gifts. The smells in the house when I would come home from school – yeast, brown sugar, cinnamon, butter, and the lovely glaze as they were turned out of the pan; I can still see them in my mind's eye.
Hmm; do I have a sweet tooth? Yes, I do! Let's see if I can come up with a few savory items.
4. Real Philadelphia cheese steaks, on good, crispy rolls, with the Cheez Whiz topping. You can get cheesesteaks almost anywhere nowadays, but authentic ones must come from Philadelphia, preferably from Geno's or Pat's in South Philly.
5. The Pennsylvania Dutch cheese fritters that my grandmother used to make. I was a little girl when I used to enjoy these so I'm not even sure what kind of cheese she used to use – I think a sharp cheddar, mixed with flour and egg and fried in butter until brown and crispy. My father loved these, too, and it was a bond between us.
As for the bloggers I am tagging, I will stick with my previous list: