Mom meets Wednesday
My visit to Leland in New York was too short, and all I could think while I was there was that there were too few meal times in the day to take advantage of the wonderful food in that city. As it was I gained three pounds, and we must have walked five miles every day!
Leland was at his bread-baking class on Saturday when I arrived, so Nathan obligingly took me on a tour of the Union Square greenmarket. What an incredible bounty of fruits, vegetables, cheeses, meats, and baked goods! I would be there all the time if I lived nearby, although the crowds started to get to me after awhile. We bought some peaches and a couple of excellent cookies (I had to steer N8 away from the peanut butter cookie he wanted which was baked with Crisco.)

Saturday night we met Uncle Ted and Emily for dinner at Via Emilia , where we shared a couple of appetizers and each ordered a different pasta dish. I had the tortelloni filled with pumpkin and they were superb. We also shared two desserts but were a bit disappointed with them; the flourless chocolate cake was a little grainy and the custard in the profiteroles seemed like it was made from a mix.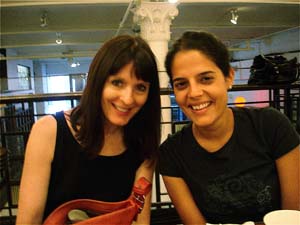 Leland already posted on our Sunday lunch and for dinner he cooked a wonderful pasta dish at home. By far the highlight of the trip was meeting The Wednesday Chef for lunch at a restaurant called The City Bakery. I have long been a fan of her blog, so it was such an honor to meet her! And the restaurant was perfect for lunch; they have a sort of cafeteria-style buffet that they call a salad bar, as well as hot foods like grilled sandwiches and pizza. The salad bar has fried chicken, marinated grilled peppers, sesame green beans, cold sliced roast chicken with black sesame seeds, roasted beets, and lots of other yummy things I'm forgetting. I knew I wouldn't be getting any dinner last night so I indulged in one of their signature chocolate chip cookies, although I thought it tasted a little too much of baking soda. Anyway, here is a photo of me and Luisa of the Wednesday Chef – she is the young gorgeous one on the right!