Mom makes rice salad
I saw some gorgeous black lentils in the grocery store recently and bought them, thinking how pretty they would be in a rice salad. I'm fond of rice salads in the summer; I think they're a refreshing alternative to the more ubiquitous pasta and potato salads, and like those can be be served as a side or main dish depending on what else you put in them.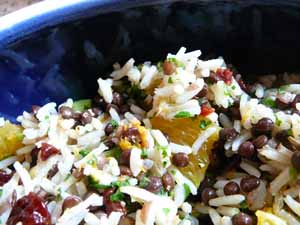 We had a busy day yesterday so I just grilled some boneless chicken breasts and served them with some of the pineapple salsa left over from Calvin's prom dinner (note to self: half a pineapple makes enough salsa for at least three meals). This rice and lentil salad was a great accompaniment, and my family seemed to enjoy it. The recipe is slightly adapted from one I found on the Epicurious website and can easily be varied by using different herbs, lime instead of lemon juice, jalepeño pepper, etc.
Rice and Lentil Salad with Citrus and Dried Fruit
1 1/2 cups water
1 cup long-grain rice
1/2 teaspoon salt
1/2 cup black lentils
3-4 green onions, trimmed and thinly sliced, including most of green part
2 tablespoons Spanish sherry vinegar
1 tablespoon fresh lemon juice
1 orange
1/3 cup dried cherries, chopped, currants, or other dried fruit
1/4 cup olive oil
1/3 cup chopped fresh parsley, preferably curly
Boil water, rice, and salt in a 1 1/2-quart heavy saucepan, uncovered and undisturbed, until steam holes appear and surface looks dry, about 8 minutes. Reduce heat to very low and cook, covered and undisturbed, 15 minutes more.
While rice cooks, simmer lentils in water to cover by 2 inches about 15 minutes, or until just tender, then drain.
Finely grate zest from orange and cut away remaining peel and pith. Cut sections free from membranes and cut sections into 1/2-inch pieces. Toss warm rice with lentils, green onions, orange, zest, cherries, oil, vinegar, and parsley and season with salt and pepper. Serve warm or at room temperature.