Mom makes pudding
There have been some very upscale pudding posts in the food blogosphere lately and I have read them with a great deal of interest as I have long been a fan of puddings of all types. I never ate bread pudding until I was an adult and made it for myself, although I'm surprised my mother didn't make it, since she is one to use up stale bread in creative ways and I grew up hearing her say "Waste not, want not!" I guess we ate most of our bread or it got made into French toast if it was too stale to use for sandwiches.
I had forgotten about old-fashioned cornstarch pudding until the past few months, when I was cooking for my young friend with the broken jaw. It's one of the first things girls used to be taught to cook in home economics class back when it was a mandatory part of the curriculum, even for us college prep kids. At home my mother actually used to use the pudding mix that you added milk to and cooked in a saucepan, so I did need to learn how to make real pudding from scratch. There are a couple of fundamental cooking principles involved – cornstarch must be added to cold liquid, and egg must be tempered (warmed up) before being added to a hot mixture – that all beginning cooks should know.
Later on when I was working at the Watergate and enrolled in classes at the local community college as part of the apprentice chef program I was involved in, we took a taste test of chocolate pudding in class one day, tasting the old-fashioned kind, the boxed cooked kind, and the instant variety that somehow gets thick when you stir the mix into the milk. As expected, everyone preferred the type they had grown up with and the only one who really like the old-fashioned kind best was the teacher. The youngest kids in the class preferred the instant, and those of us in my age group all like the boxed cooked type. Of course, I wouldn't dream of eating that kind now.
Yes, cornstarch pudding is primarily nursery food, but my family loves it, and it makes a serviceable filling for cream puffs of all shapes and sizes. You can also spread it out in a baked pie shell, top with whipped cream, and have an easy cream pie. Another thing you can do with the vanilla pudding is use it to fill those pre-made chocolate shells that look sort of like cupcake liners, then top with some fresh raspberries; looks elegant yet is so easy. Last night I made butterscotch pudding, but I think the chocolate is my favorite.
Vanilla Pudding from the Better Homes and Gardens Cookbook, 1969 edition
serves 4 or 5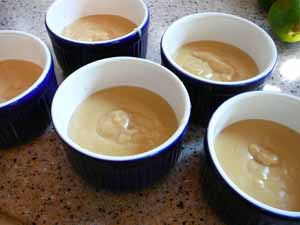 3/4 cup sugar
2 tablespoons cornstarch
1/4 teaspoon salt
2 cups milk
2 slightly beaten egg yolks or 1 well-beaten egg
2 tablespoons butter
1 teaspoon vanilla
In saucepan, blend sugar, cornstarch, and salt; add milk. Cook and stir over medium heat till thickened and bubbly. Cook and stir 2 minutes more. Remove from heat.
Stir small amount of hot mixture into yolks (or beaten egg); return to hot mixture; cook and stir 2 minutes more. Remove from heat; add butter and vanilla. Pour into serving dishes; chill.
Chocolate Pudding: Follow directions for vanilla pudding, increasing sugar to 1 cup. Add two 1-ounce squares unsweetened chocolate along with the milk.
Butterscotch Pudding: Follow directions for vanilla pudding, substituting brown sugar for granulated sugar. Increase butter to 3 tablespoons.
Note: If you are using this for filling cream puffs, place a sheet of wax paper or plastic wrap directly on the surface while chilling so it doesn't develop a "skin".