Mom makes Philippine-style chicken
I have been in a rut lately in the kitchen, and I blame Weight Watchers—oh, they try to "jazz things up" by adding lemon to the ice water and herbs to the green beans, but you and I know we're talking about abstaining from everything that makes life worth living, like butter, sugar, cream, bacon, and generous measures of olive oil, not to mention chocolate. And bread! Bread isn't on the Weight Watchers diet, although you can save up your "points" and eat a slice of whole grain bread every once in awhile, unbuttered.
All this might be worth it if I were losing weight, and I really expected those Spanish pounds to just drop off with just a week or two of frugality, but no! The scale is stubbornly refusing to budge and I'm getting frustrated and ready to give up and just start buying larger sizes of clothing.
Anyway, tonight's dinner was actually both relatively abstemious and really good. I was leafing through Ruth Reichl's Gourmet Cookbook looking for something new to try and came across this recipe. I knew my favorite grocery store had whole chicken legs on special this week and I had the other ingredients in my pantry.
Philippine-Style Chicken Adobo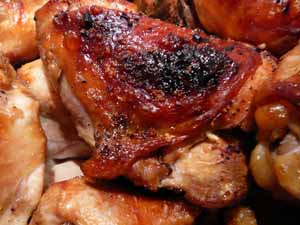 1/2 cup cider vinegar
1/4 cup soy sauce
1 tablespoon minced garlic
2 Turkish bay leaves or 1 California bay leaf
1/2 teaspoon ground black pepper
4 whole chicken legs, rinsed, patted dry, and cut into drumsticks and thighs
Stir together vinegar, soy sauce, garlic, bay leaf, and pepper in a bowl, then pour marinade into a sealable plastic bag. (I just put everything into the bag right off the bat and shook it a bit.) Add chicken, seal bag, pressing out air, and turn to coat chicken thoroughly. Put bag in a baking pan and refrigerate, turning occasionally, for 2 hours.
Let chicken stand at room temperature for 45 minutes before baking. Put a rack in the middle of the oven and preheat oven to 425ºF.
Arrange chicken skin side up in one layer in a 13X9 inch baking pan and pour marinade over it. Bake until cooked through, 35-45 minutes. Transfer chicken, skin side up, to a broiler pan. Pour pan juices into a small saucepan.*
Turn oven to broil. Broil chicken about 4 inches from heat until skin is golden and crisp, 5-6 minutes.
While chicken broils, skim fat from pan juices (or *before pouring into saucepan, first pour into fat-skimming measuring cup and let fat rise to top) and bring to boil. Remove from heat and discard bay leaf.
Serve chicken and sauce with rice. Serves 4.