Mom makes cucumber salad
I have always been fond of pickled, sour, and sweet & sour foods. My mother used to make all sorts of piccalillis, chow-chows, relishes, and pickles. My favorite pie was, and still is, sour cherry, and my favorite candy was the sublime Regal Crown Sour Lemon , unfortunately no longer available. My kids used to eat Lemonheads but they were a poor substitute for Regal Crown Sours, as they were basically sweet drops of hard candy dusted with ascorbic acid. Once you licked the sour coating off they didn't even taste lemony.
Sweet and sour cucumber salad is an easy and refreshing summer side dish which gives you an opportunity to use your mandoline . You don't really need a recipe but I'll give you one anyway.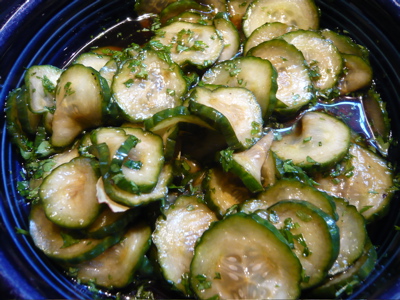 Sweet and Sour Cucumbers
2 or 3 cucumbers (I used 1 1/2 long English cucumbers; 3 or 4 pickling cukes would also work)
1 teaspoon or so kosher salt
1 cup vinegar (I like Spanish sherry vinegar, cider vinegar is also good; don't use balsamic)
1/2 cup sugar
freshly ground black pepper
chopped fresh parsley
Thinly slice cucumbers using sharp knife or a mandoline. Layer in a colander, sprinkling lightly with kosher salt. Don't use too much salt or the salad will be salty. If you don't have a lot of time you can skip this step but it's helpful when using homegrown cucumbers which can be bitter. Put a weight on top and leave to drain for about an hour. I used a salad plate topped with a filled teakettle to weigh them down, and after yoga class they had exuded about a half cup of liquid. Spread the cucumbers out on a clean kitchen towel or paper towels and blot them off.
Meanwhile, in bowl large enough to hold all ingredients, mix vinegar, sugar, and pepper and whisk until sugar is dissolved. Add cucumbers and gently fold with rubber spatula until all slices are moistened. Place in refrigerator for at least an hour before serving, folding once or twice to blend flavors. Add chopped parsley and pour some of the dressing off before placing in serving bowl. Serve with slotted spoon or fork. If you have any left over these are good piled onto a sandwich or burger.