Mom makes banana cake
As I have mentioned before, I have been struggling to lose some weight. Despite what Leland says to the contrary, in the past year I've gained ten pounds; spending all my spare time reading food blogs, trying new recipes, and sampling the results is not conducive to maintaining a shape like the young Audrey Hepburn, and darn it, that's who I want to look like! What I've been repeating to myself lately is, "The only thing making me unhappy in my life right now is my weight." It seems to be helping me resist the lure of late night snacking, as well as gratuitous mid-afternoon roasted almond munching. I do realize that I'm a lucky woman indeed to be able to make a statement like that, and that I'm tempting the gods to put it in print and should expect all manner of bad luck to befall me in short order. As a matter of fact we did get stopped for speeding on the way home from the airport this afternoon and my husband got a ticket for $161.
Another strategy I sometimes employ is when I bake dessert to make something I won't be tempted to eat myself, like this Black and White Banana Loaf from the Dorie Greenspan baking book I got for Christmas. Since I hate bananas I wasn't interested in tasting even one bite of it, but my guests and family said it was delicious.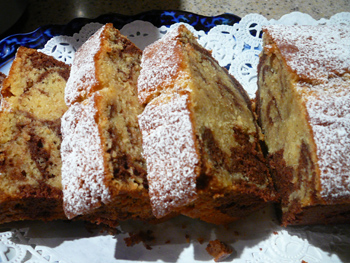 Black and White Banana Loaf from Baking, From My Home to Yours, by Dorie Greenspan
Serves 8 Active: 30 min/Total: 2 hr
Planning Tip: Wrap airtight and store at room temperature up to 5 days or freeze up to 2 months.
1 1/3 cups all-purpose flour
1 tsp baking powder
1/2 tsp salt
1/4 tsp freshly grated or ground nutmeg
1 1/2 ripe medium bananas
1/2 tsp finely grated lemon zest
Small squirt of lemon juice
1 Tbsp dark rum
3 oz bittersweet chocolate, finely chopped
1 stick plus 2 Tbsp (1/2 cup plus 2 Tbsp) unsalted butter, softened
2/3 cup packed light-brown sugar
1/3 cup granulated sugar
4 large eggs
1 tsp vanilla extract
1/2 cup whole milk
1. Heat oven to 325°F. Butter an 8×4 x 21/2-in. loaf pan; dust with flour; tap out excess.
2. Whisk flour, baking powder, salt and nutmeg in a small bowl until blended.
3. In another small bowl, mash bananas with lemon zest and juice; stir in rum.
4. Microwave chocolate and 2 Tbsp butter, stirring every 10 seconds, until melted and blended.
5. Beat remaining butter with mixer on medium speed 3 minutes or until creamy. Add sugars; beat 2 to 3 minutes until light and smooth. Add eggs 1 at a time, beating well after each. Beat in vanilla (batter will look curdled). Reduce mixer speed to low and beat in 1/2 the flour mixture just until blended. Beat in milk until combined, then remaining flour mixture. Scrape down bowl; beat in banana mixture (batter will look lumpy).
6. Stir a little less than 1/2 the batter into melted chocolate to blend. Drop alternating spoonfuls of both batters into prepared pan. Using a table knife, swirl batters together, taking care not to overdo it.
7. Bake 1 hour and 20 to 30 minutes (check cake after 45 minutes and cover loosely with foil if it's getting too brown), until a wooden pick inserted in center comes out with moist crumbs attached. Cool in pan on a wire rack 15 minutes before inverting on rack, turning right side up and cooling completely.
Per serving: 436 cal, 7 g pro, 55 g car, 1 g fiber, 22 g fat (12 g sat fat), 148 mg chol, 258 mg sod