Mom makes an apple tart
I've had a lot of catching up to do, coming home from our trip to Spain and the long Thanksgiving weekend at my parents' place in Maryland. It was great to spend time with so many family members down there and eat all that wonderful food. The turkeys came out especially well this year and I don't know if it's because we roasted them according to Elise's directions at Simply Recipes or if it was because they were freshly killed birds raised by the local Mennonite farmers from whom my mother gets her raw milk.
Anyway, I haven't done any fancy cooking since I've been home because I've been busy washing clothes and just trying to replenish the larder. Another consequence of being away is that I had nothing to read when we got home, having returned all my library books before we left the first week of November. Now that may sound trivial to you folks, but to me it's akin to the vodka bottle running dry for Ray Milland in The Lost Weekend. I was frantically scouring our bookshelves for something, anything, that I hadn't already read before and I came across a book Leland had given me last year, Jacques Pépin's memoir, The Apprentice, My Life in the Kitchen.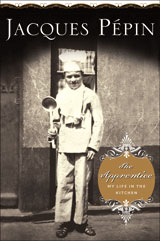 What a charming, compulsively readable book, and what a wonderful man Pépin is! I had no idea his life had, or has, been so fascinating. And what a thoroughly nice, modest, and unassuming person he seems to be, also. So unlike the mean-spirited Ruth Reichl, whose Garlic and Sapphires I read on the airplane. I'm just glad I never ran into her while she was out to eat in one of her wigs and wound up being turned into a story for her book.
I was quite taken with several of Pépin's recipes, and I tried one of them last night. His mother's apple tart has an unusual method for making the tart pastry, in which you mix the flour with soft butter, shortening, and hot milk, then spread it out with your fingers. It couldn't be easier, and it's quite tender and flaky. He calls for using Golden Delicious apples, though, and I think next time I might use something a bit tarter because it was a little sweet for us. I was also thinking how good it would be made with plums or peaches.
Maman's Apple Tart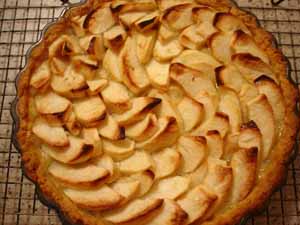 Dough
1 1/4 cups all-purpose flour
1 large egg, broken into small bowl and beaten with fork
3 tablespoons butter, softened
3 tablespoons shortening, such as Crisco
pinch salt
1 tablespoon sugar
1 teaspoon baking powder
2 tablespoons hot milk
Filling
4 large Golden Delicious apples (about 2 pounds)
3 tablespoons sugar
2 tablespoons cold butter, cut into small bits
For the dough: Preheat the oven to 400º. Put all the dough ingredients except the hot milk into a bowl. Stir well with a wooden spoon until the mixture starts to combine. Add the hot milk and stir until well mixed. Do not overwork. The dough will be very soft. Place in a 9-inch pie plate (maman used a fluted metal quiche pan and I used a fluted Pyrex tart dish) and, using your fingers and a little extra flour to keep them from sticking, press the dough into the pan until it covers the bottom and the sides.
*Note: I dampened my fingers instead of flouring them and it worked quite well.
For the filling: Peel, core, and halve the apples. Cut each half into 1 1/2 inch wedges. (I didn't understand this and just sliced the apples). Arrange the wedges on the dough like the spokes of a wheel. Sprinkle with the sugar, and top with the bits of butter.
Bake the tart for about 1 hour, or until the crust is well-browned and the apples are soft when pierced with the tip of a sharp knife. Serve it lukewarm.