Mom loves rhubarb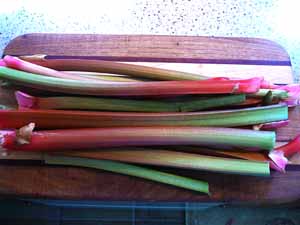 I arrived home the other night to find a lovely bundle of rhubarb sitting on my porch, courtesy of a kind neighbor. I don't think anything tastes more like spring to me than the first rhubarb of the season, even more so than asparagus. We love tart things in our house and don't have the need to adulterate our rhubarb with strawberries, blackberries, or any other fruit to make it more palatable; we like it fine just the way it is (baked into pies, crisps, and cobblers, I mean).
I'm reprinting my rhubarb crisp recipe from last spring, so long-time readers, you may feel free to click over to another blog, but for new readers, this is a great recipe, and the key to a perfect topping is to melt the butter. I know most crisp and crumble recipes call for cutting in cold butter until crumbs form, much like making pastry dough, but in my experience this does not result in a crisp topping, but a rather soft one, which I don't like. Also, if you have quick-cooking (not instant) oatmeal, it's actually better here than the old-fashioned; I used that kind once and my oldest son asked me if I had topped the crisp with Honey Bunches of Oats.
I did briefly consider flavoring the dessert with some rosemary since I seem to be reading about rhubarb and rosemary everywhere these days, but rejected the idea for two reasons; one being that I only had the dried herb and somehow didn't think that would produce the same effect as the fresh, and the second, and more important, being the fact that I was going to be feeding three teenage boys and they tend to be a conservative lot when it comes to food, not caring for flavor innovations. The innovation I did incorporate successfully, which I cribbed from Anita of the charming blog Married with Dinner was to bake the crisp on top of a parchment-lined baking sheet, thus catching any stray drips before they could burn on my oven floor. Such a simple, yet brilliant idea!
I'm including a photo of the filling before sprinkling with the topping, so those of you who are unfamiliar with rhubarb can see what it looked like.
Rhubarb Crisp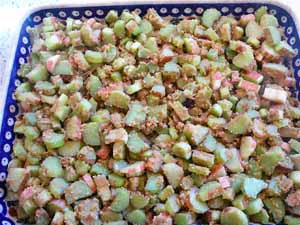 Makes 8 servings
8 cups rhubarb, sliced
1 cup light brown sugar
4 tablespoons melted butter
1/3 cup flour
1 teaspoon cinnamon
Topping:
3/4 cup flour
1 1/2 cups quick oat meal
1 1/2 cups light brown sugar
3/4 cup melted butter
1 teaspoon vanilla
Preheat oven to 400 degrees. In a mixing bowl, combine rhubarb, brown sugar, butter, flour and cinnamon. Spoon into a buttered 9X12" casserole dish.
For topping: Combine the topping ingredients in a bowl. Sprinkle evenly over rhubarb mixture. Bake for 30 to 40 minutes. Test center to make sure rhubarb is cooked.