Mom has a birthday
In all fairness, Leland should be writing this post, because he did all the cooking and all I did was sit down and enjoy a wonderful birthday dinner. Okay, I did plan the menu, being the alpha cook that I am, I guess relinquishing total control in the kitchen would be impossible for me. And I was intrigued by the recipe in the March/April 2007 Cook's Illustrated for what they call Chinese BBQ Pork, also known as char siu, and the main ingredient, if I'm not mistaken, in the mouth-watering banh mi, judged by some to be the best sandwich in the world.
What with all the sub-zero weather here, Calvin being off school half of last week, and general lassitude, I never did get around to laying in the necessary supplies, so Leland and I started the day off by dashing out to McGinnis Sisters and buying a large pork butt, along with green vegetables and salad ingredients. You definitely want some fat in your pork for this recipe, as the charred fatty bits are delicious, and pork butt is about the only cut of the pig that reliably has any fat on it any more, outside of ribs, which wouldn't work for obvious reasons. I just hate the way farmers have bred all the fat out of pork and I miss the nice juicy pork roasts of my youth; pork was a lot more tender back then, too.
Then Bill and I had another commitment for the afternoon, so off we went, leaving Leland alone in the kitchen. He baked Nigella Lawson's delicious chocolate cake he's posted about before, and the pork. Here's the recipe:
Chinese Barbecued Pork, from Cook's Illustrated magazine, March/April 2007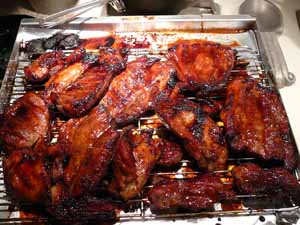 1 (4-pound) boneless pork butt, cut into 8 strips and excess fat removed* see note
1/2 cup sugar
1/2 cup soy sauce
6 tablespoons hoisin sauce
1/4 cup dry sherry
1/4 teaspoon ground pepper (recipe calls for white pepper but I think that's silly)
1 teaspoon five-spice powder
1 tablespoon toasted sesame oil
2 tablespoons grated fresh ginger
2 medium garlic cloves, pressed or minced
1/4 cup ketchup
1/3 cup honey
Note: At the grocery store they told us that pork butt never comes boneless. We probably could have asked the butcher to bone it for us but we didn't have time, so we bought a 6-pound roast and Leland hacked the bone out. Butchering directions with recipe include the following, with illustrations: Cut meat in half lengthwise. Turn each half on cut side and slice lengthwise into 4 equal pieces. Trim excess hard, waxy fat, leaving some fat to render while cooking.
1. Using fork, prick pork 10 to 12 times on each side. Place pork in large plastic zip-lock bag. Combine sugar, soy, hoisin, sherry, pepper, five-spice powder, sesame oil, ginger, and garlic in medium bowl and mix well. Measure out 1/2 cup marinade and set aside. Pour remaining marinade into bag with pork. Press out as much air as possible; seal bag. Refrigerate for at least 30 minutes or up to 4 hours.
2. While meat marinates, combine ketchup and honey with reserved marinade in small saucepan. Cook glaze over medium heat until syrupy and reduced to 1 cup, 4-6 minutes.
3. Adjust oven rack to middle position and heat oven to 300º. Line rimmed baking sheet with foil and set wire rack on sheet.
4. Remove pork from marinade, letting any excess drip off, and place on wire rack. Pour 1/4 cup water into bottom of pan. Cover pan with heavy-duty foil, crimping edges tightly to seal. Cook pork for 20 minutes. Remove foil and continue to cook until edges of pork begin to brown, 40-45 minutes.
5. Turn on broiler. Broil pork until evenly caramelized, 7-9 minutes. Remove pan from oven and brush pork with half of glaze; broil until deep mahogany color, 3-5 minutes. Using tongs, flip meat and broil until other side caramelizes, 7-9 minutes. Brush meat with remaining glaze and continue to broil until second side is deep mahogany, 3-5 minutes, then cut into thin strips and serve.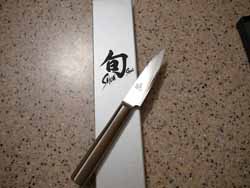 While we were enjoying our cake I opened my presents, and among lots of other nice gifts I was thrilled to unwrap a new Shun paring knife from Leland, the smaller version of the chef's knife he recently bought for himself. It's heavy and extremely sharp, destined to become a much-beloved part of my kitchen arsenal.