Mom grills asparagus
If you believe in seasonal eating, this may be close to the last weekend to obtain a vast amount of asparagus and eat them until they come out of your ears. We have been enjoying asparagus several times a week since April and a couple of nights ago I brought home two huge bunches, so big that I couldn't quite get my hands around them (so I guess that means they exceeded the circumference of Scarlett O'Hara's waist), and grilled them.
What I've been doing with asparagus lately is either roasting them or grilling them; roasting if it's too cold to grill, and then when we pass directly from winter to summer as we tend to do here in Pittsburgh, putting them on the grill. Cooking them that way seems to intensify their flavor and they don't wind up watery or soggy, plus they can be served either hot, warm, or at room temperature, which makes it easy on the cook.
I'm sure many of you don't need instructions here, but this is how I do it:
Simple Grilled Asparagus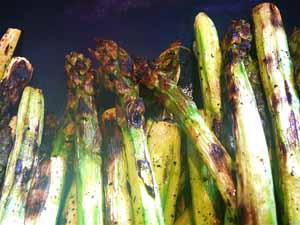 Buy the fattest, freshest asparagus you can find. Snap off the ends as close to the bottom as they will snap. I believe Lindy over at Toast suggests that if you peel before snapping the ends you may reduce waste but usually by the time I've gotten to the vegetable preparation part of the meal I'm in a hurry and don't have time to experiment. You can try peeling first and then snapping if you want to, because then you must peel all the asparagus with a swivel-bladed peeler, either your trusty vegetable peeler or a fancy asparagus peeler if you have one. Start at the bottom and peel toward the tips, stopping short of the nubbly part. The peeling enables the stalks to cook at the same rate as the more tender tips. Believe me, once you get in the habit of peeling asparagus you will never go back to unpeeled, even though it is rather tedious. Oh, don't put the peels down the garbage disposal as they are stringy and might bugger it all up.
Now, spread all the stalks out on a baking sheet and drizzle with olive oil, then sprinkle with coarse salt and pepper. Roll around so they are all coated with the oil. Put on preheated grill and cook, turning once or twice, until they are as tender as you like them. Heap onto a platter and serve.