Mom goes to the farmer's market
Every year I say I'm going to go to the Farmer's Market more frequently and every year I fail to do so, but I've finally been convinced by a friend who is a high muckety-muck in the Pennsylvania Association for Sustainable Agriculture that supporting local farmers is better than buying organic food at Whole Foods, even if they don't all farm organically.
Today I made my first trip to the East Liberty location of the city farmers markets and noticed that there are more organic farmers selling their wares there than in previous years, and that they were getting a lot of customers, too, of the aging baby boomer variety, (I know, I know, I am one, too, but why do the women have their hair cut like men and the men have those silly ponytails?). Unfortunately I wasn't really thinking about posting while I was there and I didn't take notes or write down the names of all the purveyors from whom I bought goods, so this entry will be a little sketchy. The market was a bit sparse in terms of vendors, but I guess that's because it's so early in the season and we'll see more farmers setting up tables as the summer progresses. In fact, I think all the folks there today were claiming to be "organic" except one, and I avoided his tables because he seemed to have too many vegetables that I thought couldn't possibly be local (beets?, and I think I saw tomatoes!). I do wish these organic folks would get their acts together in terms of business—are the two things incompatible? A couple of them lost my business today because they were too busy talking to their crunchy friends to take my money.
Another vow I made to myself this year is that in addition to patronizing the organic farm stands as much as possible, I'm going to try at least one new item every time I go to the market, something I don't usually buy. Today I bought some green garlic from a ponytailed dude; it looks pretty much like scallions—Alice Waters talks about it a lot in Chez Panisse Vegetables. In addition, I bought 2 bunches of young Swiss chard (he claimed he picked it today) and braised it along with the garlic for our supper tonight. Some people, including Alice Waters, seem to like their chard lightly sauteed, while others like theirs braised low and slow until it is very tender and I am one of those. First I cooked the green garlic (sliced thinly, tops and all) with some red pepper flakes in olive oil until translucent, then added the washed and chopped chard, folding to coat with the oil. I salted and peppered it, added a bit of chicken stock, then simmered over low heat, gently stirring, for about 30 minutes, until tender.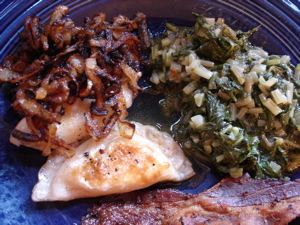 With the greens we had some homemade pierogies I also bought at the market from an outfit called Gosia's Pierogies, from Latrobe, Pa. I got some stuffed with potato and cheese, and some stuffed with cabbage, and boy, were they good! I fried a big Vidalia onion in butter to put on top, as you can see in the photo.