Mom gets spice rack
The contractors finally installed my in-drawer spice rack today, which basically consists of three slightly angled pieces of wood attached across the width of the drawer so I can stack rows of spice jars on them as you see in the photo. In case you're squinting and reading the names on the containers and wondering where the essentials, like the thyme, cayenne pepper, and oregano are, I have a smaller spice rack hanging on the wall with my more frequently used seasonings in it. This one is for those I don't need so often.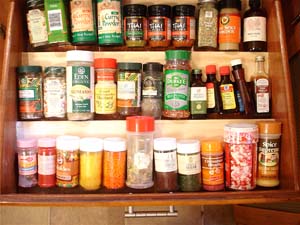 One thing I discovered as I was emptying the box of jars and containers into the new rack was that I seem to have three big jars of autumn leaf sugar cake decorations. Given that I use sugar shapes sparingly to start with (there's something about the mouth-feel of the crunch on top of a creamy frosting I just don't like) I'm guessing I have enough of these to last me for the rest of my life.
Posted earlier today and temporarily removed while Leland and Mom had a slightly tense email exchange: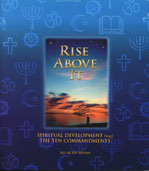 At the risk of being kicked off this blog by my anti-religious son, I'm putting in a plug for a series of spiritual growth classes starting next week, using the book Rise Above It: Spiritual Development Through the Ten Commandments, by Ray and Star Silverman. It takes the Ten Commandments and relates them to daily life. The book brings in complementary teachings from different major world religions as well as the 12-step philosophy. It is filled with heart, depth and personal application.
Life is a journey and we all need a road map. My husband and I participated in these classes about four years ago and found them to be very rewarding; we expect to get even more out of them this time. Groups are being held in different locations Sunday through Thursday starting September 17 and running for 10 weeks. For more information or to sign up, email mac@newchurch.org. Feel free to attend just one or two sessions; they are self-contained.
(We have great snacks at these things, too!)