Mom eats muffins
There's something about having to rely on the ministrations of strangers for my morning meal that makes me cranky, and I've become pretty discriminating about local muffins. The easiest for me would be if our neighborhood grocery store, the Frick Park Market, sold decent breakfast pastries. I can roll out of bed, pull on some shorts and a tee-shirt, and walk half a block to get there. They have great coffee, made of freshly ground beans from La Prima Espresso, but despite the fact that a local woman makes the muffins and delivers them herself, I can't recommend them. They are heavy and greasy and not always fresh; I think the folks at the Market just keep selling them until they are gone, even if they are days old. I know from a short-lived attempt some years back at doing some baking of my own to sell at a local coffee shop that you just can't make any money if you use good ingredients, so I'm also guessing that the woman who makes these compromises a little on quality. (Not to mention the nerve of the owners of the Market, going on a two week vacation, right in the middle of my kitchen remodeling and forcing me to get in the car and drive to get my first cup of morning coffee!)
The next contenders are the Starbucks outlets in the area; I've tried the muffins at two or three of them and they are all about the same so I'm guessing that they use the same supplier. They are lousy – too sweet, oily, and have that nasty, greasy surface that sticks to your fingertips, along with a chemical flavor that lingers in the mouth long after the muffin is gone.
I really wanted to like the muffins at the Coffee Tree Roasters, an independent coffee shop here in Pittsburgh that has about three local stores because I try to support the independent shops, but alas, I had the same complaints about their muffins as I did the ones at Starbucks. They weren't quite as bad, but were still oily and too sweet.
The very best muffins are the ones at Whole Foods and there's no getting around the fact that they use the same ingredients I would use in my own home made baked goods; butter, eggs, and nothing artificial. They're a little further than I want to drive in the morning, though, and they don't open until 8:00 AM.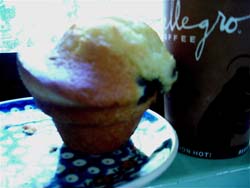 My runner up is The Bagel Factory in Squirrel Hill. They make the muffins on-site, and they're almost as good as the ones at WF – buttery, without that oily, sticky feel that the other ones have, and not too sweet. They also sell big cups of fresh-squeezed orange juice, and I think their coffee is pretty good, too, although Poppy doesn't like it so much.