Mom eats lunch at indica
A recent review of local Indian restaurants in the Pittsburgh Post Gazette completely omitted the bistro Poppy and I ate lunch in today, and when I emailed dining critic Elizabeth Downer to ask her why, she replied that she doesn't like Indica and may have even gone so far as to say that the place gives her hives. Or some kind of unpleasant physical reaction.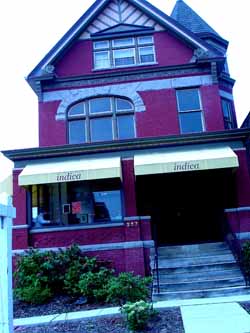 Be that as it may, we like it, and think they put on a fine luncheon buffet, albeit at $8.99/person perhaps a little pricey for lunch at an Indian restaurant, but the setting is handsome, in a restored Victorian house with beautiful woodwork and floors. So many Indian restaurants seem to be dank, dark, little hovels. The food is also a bit better than your run of the mill Indian buffet, fresher, and with more variety. They seem to feature different dishes from day to day; today I ate tandoori chicken along with some kind of spicy lentils and green beans stewed with garlic, with rice pilaf on the side, admittedly not original, but done well. The naan is warm with lots of charred bits, which I like. My only complaint today is that there was no chutney or lime pickle on the buffet table; got to have the condiments!