Mom eats crow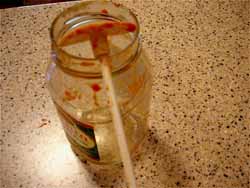 I am an idiot. When will I learn that when my son gives me a gadget I should use it?! Several years ago he gave me a rubber spatula thing designed for scraping out jars that he bought in France (or possibly Amsterdam). It's shaped like a small crescent attached sort of perpendicularly to the end of a long stem. When I got it I thanked him politely while secretly thinking that I couldn't imagine this thing could possibly be much better than the rubber spatulas and scrapers of various widths and shapes that I already owned. I stuck it in my gadget jar and had never used it, not even once, until yesterday, when I was making a lasagne and wanted to augment a batch of my home made sauce with a jar of spaghetti sauce. I needed every bit of the sauce out of the jar, so for the first time I grabbed the tool Leland had given me and tried it out. Good gosh almighty!! In four strokes virtually every speck of sauce was cleaned out of that jar, as you can see in the photo.
Sorry, Leland, and a very belated thank you for the gift. I will be using it often from now on!
In other culinary news, I attended the grand opening of the new Pittsburgh Trader Joe's today and it was pretty exciting to be there. I do share some of your objections to them, Leland, but I replenished my spice rack, bought coffee beans, baking chocolate, a big package of California dried apricots which are hard to find and look delicious, olive oil and vinegar, olives, and orange juice, all at good prices. The lines as you can imagine were long, but everyone was in a good mood and having fun. Since they are located literally five minutes from our house I can see myself going there for certain groceries often once the hoopla dies down.