Mom cooks pasta with zucchini
Between the heat, an unusually large number of migraines, road trips, and Calvin being away quite a bit, I haven't been doing much cooking, and hence, much posting so far this summer. That last excuse may puzzle those of you who live alone or in two person households and cook all the time, but after twenty-eight years of obligatory family dinners I must say that the prospect of Calvin's going off to college next month fills me with giddiness at the thought of the freedom of being able to sit in front of the evening news with a bowl of cereal or some scrambled eggs, or going out to eat if we want. My husband's probably reading this and thinking, "Great, is this what I have to look forward to when I get home from work, a bowl of cereal?!" I'd be interested in hearing from any other empty-nesters out there – did you go through a period of not wanting to cook at all? Did cooking seem not worth it for one or two people, or does that smack of laziness and sloth? Of course if I'm not cooking I don't have much reason for living; going to the dry-cleaners alone doesn't take up much of my time…
As you can imagine, my CSA farm box has gotten ahead of me, what with not cooking much. There's been a lot of zucchini and summer squash in it lately and the other night I found a recipe for pasta with shredded zucchini in Marion Cunningham's Fannie Farmer Cookbook that was easy and satisfying. I used both yellow and green squash in it and fresh basil, and since I had some extra time I grated the squash, put it in a colander, salted it liberally, and let it drain for an hour or two over a bowl to get some of the moisture out of it, although the recipe doesn't call for that. I also added some red pepper flakes for extra flavor.
Pasta with Zucchini from The Fannie Farmer Cookbook, by Marion Cunningham, 1990 edition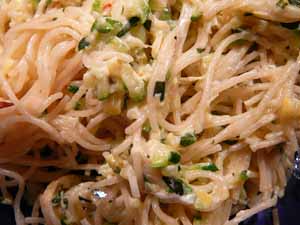 3/4 pound dried thin pasta
3 tablespoons olive oil
2 cloves garlic, minced or put through a press
red pepper flakes (optional)
4 cups grated zucchini (I used the grating disc of my Cuisinart)
3 ounces cream cheese
1/2 cup cream or milk
salt and pepper to taste (won't need much salt if you salt the squash)
1/2 cup chopped fresh basil
Grate and salt the squash, let drain if you have time as I mention above. Cook the pasta in a very large pot of boiling water, until just tender. Timing will vary with the size of the pasta. While the pasta is cooking, make the sauce. Put the oil and garlic in a large wide skillet and cook over medium heat for a minute, add the red pepper flakes if using. Add the zucchini and cook for another 2-3 minutes. Stir in the cream cheese and cream or milk and cook just till it bubbles and the cream cheese has melted. Season with salt and pepper. Stir in the basil. Drain the pasta and toss with the sauce. Serve with parmesan cheese to grate over the top.