Mom cooks pasta with beets
How many of you out there are fond of beets? When I was a child I hated them, mainly because of the way their juice ran all over your dinner plate and stained the rest of the food bright magenta. My mother's irritated rejoinder that "all the food goes to the same place, anyway!" was, to my young mind a totally inadequate argument and generally prompted the hot retort that the meat loaf and cherry pie went to the same place, too, but that didn't mean that I wanted them served on the same plate, especially touching each other! But children are powerless in these matters, or at least they were then, and beets continued to be a regular menu item in our house and continued to stain the mashed potatoes purple and as a result I could probably count on two hands the number of times I have purchased and prepared beets in over thirty years of cooking for myself.
Another reason may be that I have been married all that time and I have noticed that men don't seem to like beets much. How many men, when you take them shopping, say, "Let's not forget the beets!" as opposed to, "Let's not forget the beer!"?
However, as a subscriber to a CSA box I have been getting lots of beets this summer. I don't hate them now, actually, and I especially love pickled beets. A slice of pickled beet slipped into a grilled cheddar cheese sandwich elevates it to the sublime. I also like hard-boiled eggs marinated with the pickled beets; they are so pretty sliced onto a green salad.
As you may or may not know, we love Laurie Colwin on this blog. I've read her novels in book groups and have read Home Cooking and More Home Cooking until they are falling apart. In my opinion there are few sentences more poignant than the bit in More Home Cooking where Colwin writes, regarding holiday cooking traditions, that "I know that in not too long a time my daughter will grow up and decide that it is her turn, and we will travel to her household for Thanksgiving. And there I will find the traditional meal, totally renovated and redesigned: the beginning – for that is the way these things go – of a new tradition." Of course she didn't live long enough to see her daughter grow up or eat at her table, and I always feel a little sad about that when I cook from one of Colwin's books.
Anyway, she has a whole chapter devoted to beets in More Home Cooking, and there's a recipe for pasta topped with them. She emphasizes that it's flexible and gives a few variations. I made it the other night, more or less as follows, and I thought it was quite tasty but my husband was pretty underwhelmed. I suppose it's the men and beet thing, so if you try it, be aware of that.
Beets with Angel's Hair Pasta from More Home Cooking, by Laurie Colwin
4-6 medium beets, peeled and finely diced
1 large clove garlic, minced
2 tablespoons olive oil
Salt and pepper to taste
1/2 cup chicken broth
1 red onion, minced
fresh herbs, whatever you have (I used basil)
crushed red pepper flakes
1-3 chopped tomatoes (optional)
1/2 pound angel hair pasta
freshly grated Parmesan for serving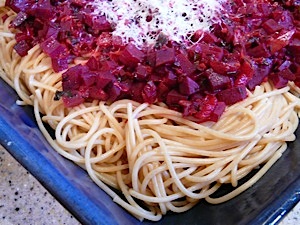 Put beets and olive oil in large skillet. Sprinkle with salt and pepper and cook over moderate heat, stirring, until just tender. Add garlic and cook for another minute. Add broth and simmer until beets are very tender. Add remaining ingredients except pasta and cheese. Boil pasta, top with beet mixture and serve with lots of grated Parmesan.