Mom cooks chicken under a brick
You'd think the variety of vegetables in my CSA box would be an inspiration to me, but au contraire! (You'll find me sprinkling my posts with French phrases for the next few months because I'm going to Paris in November where my husband is performing with some French blues musicians.) Instead I find myself chucking things like zucchini blossoms and pea shoots willy-nilly, and doing the bare minimum with the rest of it. The sheer volume of spinach has been terribly oppressive and I don't like all the bugs in the broccoli. Last night I actually found myself making a dish that you would have found on the table of almost any self-respecting hippie in the late 60s or early 70s: "I know, let's stir-fry a bunch of different vegetables with curry and serve them over brown rice!" How is it that so many individually flavorful ingredients can turn into a puddle of brown, tasteless glop?
For a break from all that I turned to an old favorite recently, a recipe from The Supper Book, by Marion Cunningham, called Chicken Under a Brick. She says it's an Italian method of cooking chicken; it's simple and satisfying. It's also quite a man-pleaser.
Chicken Under a Brick from The Supper Book, 1992 edition, Marion Cunningham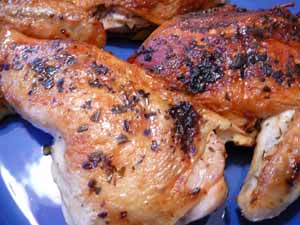 one 2 1/2-pound frying chicken (mine was 3 pounds)
3 tablespoons olive oil
3 cloves garlic
1 teaspoon dried thyme, crumbled (I used fresh rosemary, chopped)
optional: red pepper flakes, kosher salt
3 tablespoons peanut oil or more olive oil
Split the chicken down the back and remove the backbone. Flip the chicken over and remove its rib cage with a small sharp knife. Flatten the chicken with the heels of your hands. Mix together the olive oil, garlic, thyme, and optional red pepper flakes and salt, and rub the mixture all over the chicken with your hands.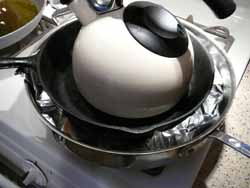 Heat the peanut or olive oil in a 10- to 12-inch skillet over medium-high heat. Put the chicken in the skillet, skin side down. Rub any left-over olive oil mixture on the exposed side. Cover the chicken with foil, tucking the foil down around the chicken. Weight down with another, slightly smaller heavy skillet that has additional weights in it, such as bricks, a heavy rock, or another heavy pan (I used a filled teakettle). Press down firmly. Cook for 15 minutes, checking to make sure the chicken isn't browning too fast, lower the heat to medium, and cook 10 minutes more. Turn the chicken over, cover and weight down again, and cook for a final 10 minutes. (If your chicken is bigger than in the recipe, adjust cooking time accordingly.) Remove to heated platter and let rest for 10 minutes before carving. I reduced the pan juices and served with the chicken, but next time I make it I might not tuck the foil in so firmly, as I think it caused the chicken to steam more than I wanted.