Mom cleans house, and road trip, continued
Okay, I just spent a couple of hours throwing away mysterious grains, flours, and spices that I haven't used since we moved into the "new" house in 1999. At my age I can no longer count on being able to put anything into an unlabeled container and remembering what it is unless it's something like sundried tomatoes. Even dried blueberries can be a little hard to tell from currants, and dried cranberries and cherries look pretty similar, too. A lot of the spices, seeds, and herbs weren't even fresh when we moved in here, and while pitching them I was reflecting on the shift we've made in cooking, even in the past few years. At one time I tried to have just about every spice or herb in existence on hand in case the urge to cook something exotic should strike me; I'd be prepared for anything. But as a result some of those seasonings sat on my shelves for 10 years or even much longer. No matter what the chefs advise, it's hard to throw spices away that have never even been opened. Now I realize it's better just to buy the ones I use frequently in fairly small quantities that can be replenished often, and get the exotic seasonings when and if I plan to cook something special.
But back to my weekend—one reason we planned to break the trip up in Beckley, West Virginia was specifically so we could eat at Tamarack, an odd-looking, crown-shaped building on Route 19 where it bypasses Charleston, West Virginia. Tamarack bills itself as housing the "best of West Virginia" and has a food court that is supervised and manned by chefs from the famed Greenbrier Resort. All we care about at Tamarack is the food; the rest of the building is filled with quilts, woodworking, pottery, and all manner of crafts that hold no interest for us and are undoubtedly overpriced as well. Other folks obviously don't feel that way as the place was swarming with people buying dried flower arrangements, rustic-looking "Welcome" plaques, and other artisanal junk.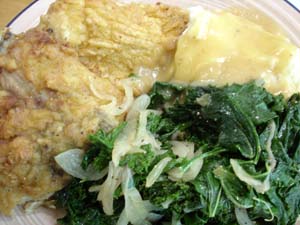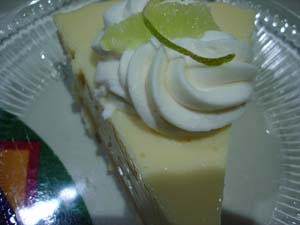 What I can't understand is why more travelers don't take advantage of the cafeteria there; it's never crowded, even on the weekends, and the prices are more than reasonable. On the trip down my husband had the sautéed brook trout with lemon butter and I got a chicken breast with porcini mushroom sauce. We both love their braised kale with sweet onions and always get it. I tried the fried green tomatoes, which I didn't like but Bill did. I thought they were fried in some kind of oil I don't like, maybe grapeseed or canola, although they were nice and crisp. The key lime pie was perfect: tart and creamy, and the right color—golden green, not the lurid neon green you get with the artificially dyed "key" lime pie mixes. On the way home we stopped again and I got the trout this time while Bill ordered West Virginia fried chicken (he hadn't had his fill of fried chicken in North Carolina!) Completely forgetting my goal of extreme skinniness by next weekend I topped it all off with a slice of their coconut cream pie. They have great coffee there, too.